Whenever goods cross international borders, they usually pass through customs – a process where duties and taxes are applied to those goods. But have you ever wondered how these customs duties are calculated? In this guide, we'll explain the process to help you understand how to calculate customs duties.
Embrace the power of knowledge and embark on your journey towards mastering customs duties with DFreight's guide by your side. Unravel complexities, seize opportunities, and ensure compliance with the expert insights we offer.
Find Your Rate
What Are Customs Duties and Taxes?
Customs duties, also known simply as duties, are fees imposed by governments on goods imported into a country. These fees contribute to the country's revenue and help regulate trade. Additionally, value-added tax (VAT) or goods and services tax (GST) might be applied to the goods.
What Kinds of Duties Are There?
Anti-dumping taxes, trade tariffs, export, and excise duties are all different types of duties. Import duties, which apply to goods entering a country, are the most common duties; be aware of the difference between these duties before calculate customs duties.
What Is "Tax"?
They're taxes levied by the government on goods imported into the country. Even though the goods were purchased outside the country, the consumption tax remains in place and must be collected by customs when the commodities enter the country.
How Are Taxes Different from Duties?
Regarding shipping, the phrases 'duties' and 'taxes' can be frequently confused.
It's essential to consider what these two mean and understand their differences.
What exactly are customs duties? Customs duties are a tax on cross-border products collected by customs to generate government revenue and protect that country's domestic market.
The main difference between taxes and duties is that duties are taxes on products entering or leaving a country, whereas taxes are imposed on practically all purchases. Both add to a product's overall import and export costs.
Classification and Valuation of Goods
The first step in calculate customs duties is determining the classification and value of the goods. Every product type has a unique classification code in the Harmonized System (HS Code) – a globally standardized system. This code helps identify the specific category to which the goods belong. The value of the goods is usually the transaction value – the price you paid for the goods, including shipping and insurance costs.
Duty Rates
Each classification code has an associated duty rate. Duty rates can be specific (a fixed amount per quantity) or ad valorem (a percentage of the goods' value). Some countries also have preferential duty rates for certain goods coming from specific countries due to trade agreements.
Calculate Customs Duties
To calculate customs duties, you multiply the value of the goods by the duty rate. For example, if you're importing a gadget valued at $100 with a duty rate of 10%, the calculation would be $100 x 0.10 = $10 in customs duties.
In this video, you can find out how custom duties are calculated:
Additional Costs
Remember, customs duties are not the only costs. Depending on the country, you might also need to pay taxes like VAT or GST. These are calculated similarly to customs duties – as a percentage of the goods' value, including shipping and insurance costs.
Other Factors
Certain goods might have additional costs, like anti-dumping duties to prevent unfair competition or countervailing duties to counter subsidies given to producers in other countries.
Exemptions and Thresholds
Many countries offer exemptions or reduced rates for goods below a certain value. This is often referred to as a "de minimis" threshold. Goods under this value might be exempt from customs duties and taxes.
Customs Declarations
When you import goods, you need to provide a customs declaration form. This document includes information about the goods, their value, and other relevant details. Accurate and complete declarations are crucial, as incorrect information can lead to penalties.
Who Is Responsible for Paying the Customs Duties?
The importer is in charge of paying most customs duties. The exporter is responsible for paying the export duties.
Who Is Responsible for Paying Taxes?
Importers usually are responsible for paying taxes.
What Factors Are Taken into Account to Calculate Customs Duties and Taxes?
Remember that to calculate customs duties, several variables influence the amount of customs duties and taxes you must pay for a shipment:
The product type is classified using the HS code. Customs officials use this commodity code to quickly determine what is being exported and apply the taxes, duties, and regulations specific to that product.
Customs use the value of the goods, including freight and insurance costs, to calculate customs duties and taxes and clear your shipment. As a result, it's critical to provide the correct value of goods on the business invoice.
The product description in the commercial invoice includes the product's end-use and manufacturing country. The HS code and the product description should match to ensure the goods are accurately classified.
The amount of taxes and duties on a cargo might be influenced by international trade agreements between countries. If you're shipping goods between countries that have a trade agreement, you might be able to get them duty-free or at a discounted rate.
The Incoterms on the commercial invoice define the agreement between the sender and receiver regarding who pays for shipping charges, including taxes and duties.
How Do Customs Officers Calculate Customs Duties and Taxes?
Customs officials use the information on your commercial invoice and other relevant documents to calculate customs duties and taxes. That's why it's critical to include information on your commercial invoices, like the HS code and the exact value of the goods.
Remember that if you leave out information, customs will calculate the duties and taxes on your cargo, which might result in you paying more than you should.
How to Calculate Your Import Duties
Calculate customs duties percentage rate on the goods you're shipping. This rate changes based on the destination country. You can calculate customs duties manually, and some calculators are available online for free.
To find it, go to the government website of your destination country's customs or trade tariff page. You can typically find duty rates using an HS code or a product description. For example, a woman's T-shirt entering the UK from the US has a duty percentage or trade tariff of 12 percent.
You can calculate customs duties on your cargo once you've found the rate. To do so, sum the value of the goods, freight expenses, insurance, and other costs together, then multiply by the duty rate. The amount of duty you'll have to pay customs for your cargo is the result.
Some countries have various tariff calculation procedures, so double-check on the government's website or with your carrier.
How to Calculate Your Tax
First, you must determine your exporting country's sales tax (VAT) rates. For example, the United Kingdom has three VAT rates: 0%, 5%, and 20%, the typical rate for most products and services. Because adult apparel falls under the usual VAT rate, the cost of shipping a woman's T-shirt to the UK is 20%.
Add the goods' value, freight expenses, insurance, import duty, and other fees to determine the VAT on your shipment. Then multiply the sum by the relevant VAT rate in the destination country. The amount of VAT you'll have to pay customs for your shipment is the result.
When Should I Pay the Shipment's Duties and Taxes?
Before your products are cleared from customs in the destination country, you must pay them. Your carrier may be able to pay on your behalf to speed up the release of your goods, and they will bill you for the expenses. It's worth double-checking before shipping if they can do this.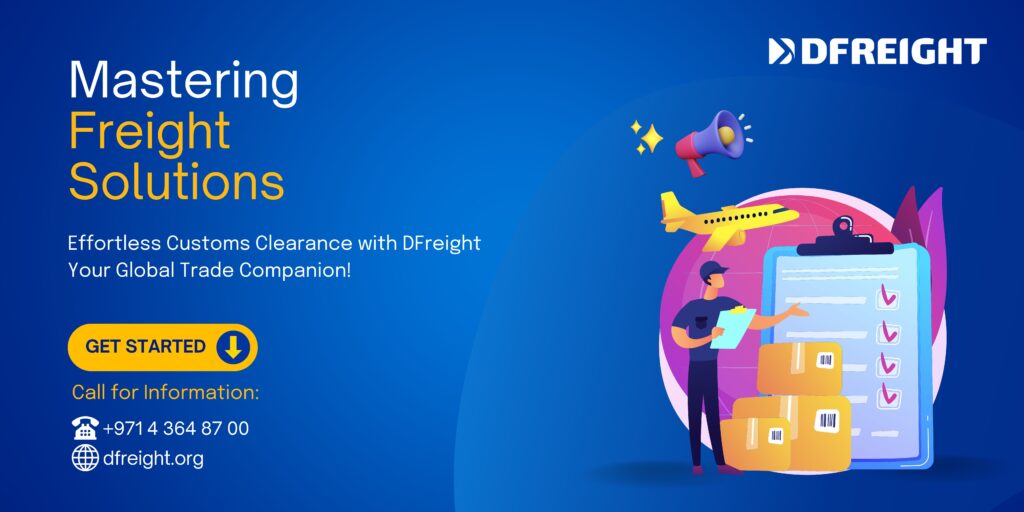 DFreight: More than a Guide, Your Partner
At DFreight, we are more than just a service provider – we are your partners in global trade success. Our commitment goes beyond shipping and logistics; we aim to empower you with knowledge. With "How Are Customs Duties Calculated? A Full Guide on Duties & Taxes Calculation," we reinforce our dedication to your growth by providing you with the insights you need to conquer international trade challenges.
What is a customs duty?
Customs duty is a tax levied by a government on imports or exports.
What is the customs duty rate for my product?
The customs duty rate for a product depends on its classification under the Harmonized System (HS) code.
How do I calculate customs duties?
To calculate customs duties, you will need to know the HS code for your product, the value of your shipment, and the country of origin.