The proliferation of electronic devices in public is growing, and people have many devices dependent on their batteries. So, with the increasing demand for electronic devices, the number of lithium batteries shipped also increased.
The UAE has a growing market for lithium batteries, and the import of lithium batteries into the UAE is expected to grow in the future.
Introduction to Importing Lithium Batteries
Lithium batteries are a type of battery that has many benefits over other types of batteries. They are lighter, have a higher energy density, and can be charged and discharged more times than different types of batteries.
Lithium batteries have been widely used for 15 years in products requiring as long a duration and as reliable a portable electrical supply as possible. Numerous devices employ lithium batteries, from mobile phones, laptops, watches, and cameras to children's toys. They find applications in many critical medical devices, and they also prove valuable in oceanographic applications, and their import and export are a vital part of the global economy.
Importing lithium batteries is a process regulated by various international organizations to ensure the safety of the batteries.
The Process of Importing Batteries
The process of importing lithium batteries is regulated by various international organizations, including the International Atomic Energy Agency (IAEA), the United Nations (UN), and the International Organization for Standardization (ISO). Manufacturers must first obtain a license from the IAEA for importing lithium batteries. The UN regulates the transportation of lithium batteries, and the ISO sets the standards for their manufacture and testing.
The Benefits of Importing Lithium Batteries
The benefits of importing lithium batteries include that they are a vital part of the global economy and that various international organizations regulate the process to ensure the batteries' safety and prevent their proliferation.
The Risks of Importing Lithium Batteries
Lithium batteries are classified as "Dangerous Goods" since charged battery shipments may overheat and ignite under certain conditions, and this is the problematic aspect that makes them a dangerous item. To further ensure the safety of the transport, there is a State of Charge (SOC), which is a measure of energy available in an electrochemical battery, that is limited to 30% on lithium batteries, and if the SOC exceeds this limit, then they must take approval from their destination.
Numerous concerns have centered on the danger that lithium batteries bring to the aviation system. Several debates have been held over the dangers connected with the carrying of lithium-ion batteries as cargo, with particular emphasis on shipment on passenger aircraft. These risks include:
The failure of the fire suppression or extinguishment systems in the cargo compartment to control or put out a fire involving considerable numbers of lithium batteries
The difficulty in determining a precise safe quantity limit for lithium-ion batteries due to the variety of factors that influence how much risk is provided by various battery or cell chemistries, sizes, design types, and numbers being transported
Lack of a system to identify and inform the operator of the individual risks and dangers associated with each battery and cell type available for shipment
The absence of a packaging standard to mitigate the risks
Classed as Dangerous Goods, lithium batteries must be correctly packaged, marked, and labeled as Dangerous Goods when shipped.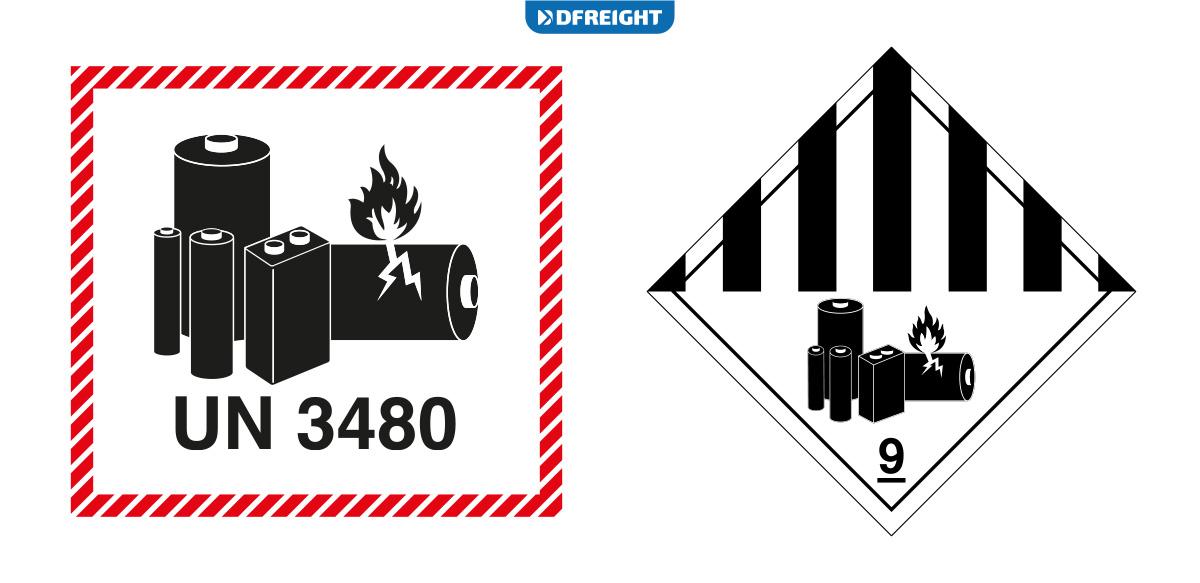 Lithium batteries can be shipped internationally if installed in the equipment they operate. Shipping carriers are not allowed to ship packages containing only lithium batteries to international locations. They must be inside a product. It means that lithium batteries are packed separately, but the shipment should be in the same box as the equipment. For example, if you are shipping your laptop with a lithium battery, your laptop and its lithium battery must be packed separately and then put in a standard box.
How to Pack Lithium Batteries for Shipping?
While packing, the very first thing you have to take into consideration is safety.
Make sure that the batteries' terminals don't collide with others. They can cause a short circuit.
You should pack each battery or device with the battery individually with some non-conductive material.
You must keep the batteries in such a way that they don't move.
After completing each step, make sure to display the label on the box. The label looks like this:
Conclusion
Finally, it's better to know that not all shipping companies can transport lithium batteries. First and foremost, when shipping lithium batteries by road, sea, rail, or air, you should choose a reputable carrier with guidelines for shipping these items, together with skilled employees who are aware of the operation of lithium batteries and how to handle them securely. When packing lithium battery shipments, it's crucial to make sure the batteries are in perfect condition and have no potential to cause a hazardous evolution of heat, fire, or short circuit. It's the shipper's legal responsibility to transport such cargo safely.
If you need a freight forwarder to transport Dangerous Goods such as lithium batteries in the UAE, please contact DFreight.
FAQs
How can I import lithium batteries?
To import lithium batteries, including batteries in devices and equipment, you must use shipping companies, considering the laws related to the transportation of Dangerous Goods.
Note that it's necessary to mention the contents of the package sent to the shipping company.
Can I ship lithium batteries that are contained or installed in equipment?
Yes, some lithium batteries are part of or installed inside the equipment. And therefore, the shipment is in the same box. Example: iPhone, iPad, or other electronic products with an Integrated Lithium Battery.
What is the safest way to import lithium batteries?
It's safe to import lithium batteries from shipping companies. It's the shipper's legal responsibility to transport such cargo safely through the air, land, or ocean but notice that shipping through the air costs far more than land or sea.