The demand for mobile phone freight services has grown exponentially as the world becomes increasingly digitized. Companies that provide these services are responsible for transporting mobile phones and electronic devices from one location to another. Depending on the client's needs, this can be done via air, land, or sea. This blog post will assist you in comprehending the process and ensuring that your products arrive on time and in good condition.
What Are Mobile Phone Freight Services?
In recent years, the import and export of mobile phones have increased dramatically. This is since mobile phones are now an integral part of our lives. We use them for everything from communicating with family and friends to booking appointments and keeping up with the news. The majority of mobile phones that are imported into the UAE are from China. This is because Chinese manufacturers have produced high-quality phones at a fraction of the cost of their Western counterparts.
As a result, Chinese phones are very popular with consumers. In terms of exports, the United States is the largest market for mobile phones. This is because the US is home to some of the world's leading mobile phone companies, such as Apple and Samsung. These companies can command a premium price for their products, which results in a healthy export market for mobile phones. The import and export of mobile phones is a booming business and is only likely to grow in the future.
As the world becomes increasingly connected, the demand for mobile phone freight services will likely continue to grow. To meet this demand, logistics companies must provide a high level of service and a reliable delivery network. However, choosing a reputable and experienced logistics company to provide mobile phone freight services is essential.
Find Your Rate
This type of service can be used to ship products of all sizes like phones, tablets, and cell phone accessories. Mobile phone freight services can be used to send products to customers in any country, making them a convenient option for businesses that sell internationally. Mobile phone freight services tasks include:
Arranging for the pick-up and delivery of mobile phones
Managing the inventory of mobile phones
Tracking the shipments of mobile phones
Providing customer service for mobile phone shipments
Ensuring that mobile phones are delivered safely and on time
Keep the preceding points in mind if you are in the business of importing and exporting mobile phones.
Take Part in the Game.
If you need to transport many items by freight, using a mobile phone freight service can be a convenient option. This service allows you to use your mobile phone to book and track your freight shipment. Here is a step-by-step guide to using a mobile phone freight service:
Choose a reputable service provider. Many companies offer mobile phone freight services, so it is crucial to choose one that is reliable and has a good reputation.
Book your shipment. When you have chosen a service provider, you will need to provide them with some basic information about your shipments, such as the pick-up and delivery locations, the type of goods being shipped, and the estimated weight.
Track your shipment. Once your shipment has been booked, you can track it using your mobile phone. This information can be accessed via the service provider's website or app.
Stay informed. It is vital to stay up-to-date with your shipment's status so you can plan accordingly. If there are any delays or problems, the service provider will usually inform you via text message or email.
Collect your shipment. When your shipment arrives at the delivery location, you will need to sign for it and collect it. Make sure you check the goods' condition before you take them away.
International Mobile Phone Shipping Regulations
When shipping mobile phones internationally, a few regulations must be followed to ensure a safe and successful shipment. First and foremost, all mobile phones must be packaged appropriately to protect them from damage during transit. This means using a sturdy box slightly larger than the phone and filling any space with soft materials such as bubble wrap or packing peanuts. The container should then be sealed with tape and labeled with "Fragile" or "Handle with Care."
In addition, all mobile phones must be shipped with a Certificate of Conformity (CoC) which states that the device meets all applicable safety and performance standards. This document can usually be obtained from the manufacturer or retailer. Finally, it is essential to check with the destination country's customs department to see if there are any special requirements or restrictions on importing mobile phones. All phones must be shipped with the proper documentation, including a bill of lading and a Certificate of Origin, and also all phones must be insured for their total value.
Some countries may have bans or limits on specific devices, like what happened with Galaxy Note 7, so it is always best to check ahead of time. In this regard, IATA has prepared detailed rules for shipping lithium batteries. Following these simple guidelines, you can ensure that your mobile phone will arrive safely at its destination.
Mobile Phone Freight Services in the UAE
The UAE is one of the world's most important markets for smartphone shipments. Worldwide smartphone sales will grow 6% in 2021, according to Gartner, Inc. This made it the third-largest market for smartphone shipments, behind only China and the US. There are several reasons why the UAE is such an important market for smartphone manufacturers:
The country has a high per capita income, meaning its citizens can afford expensive smartphones.
The UAE has a large population of young people likelier to use their smartphones for tasks such as social media, gaming, and online shopping.
The UAE is home to many major tech companies, such as Samsung, Huawei, and Apple, which have their regional headquarters in the country.
Mobile phone freight rates can vary depending on the carrier and the type of phone. Generally, phones will cost more to ship if they are larger or heavier. Some phones may also require special packaging to ensure they are not damaged during transit.
The demand of UAE citizens for various mobile phone brands is depicted in this graph: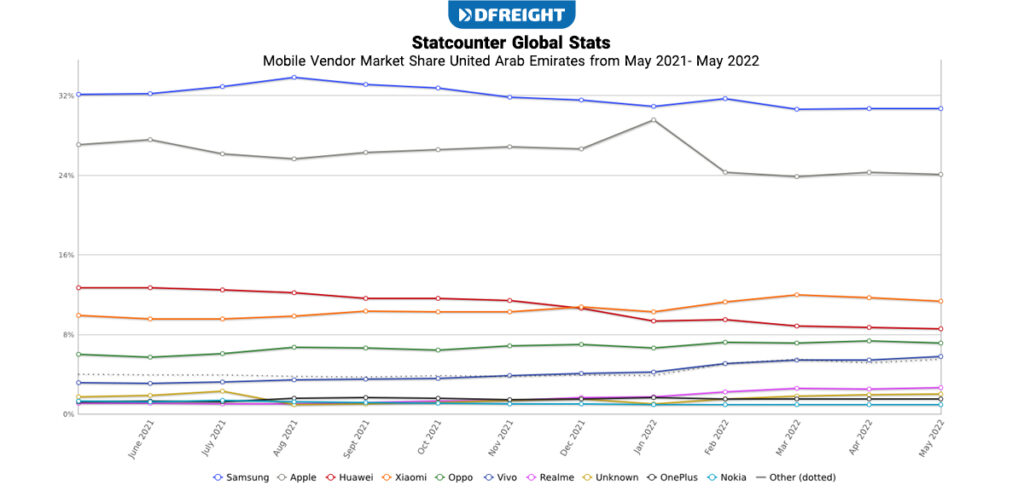 Since the UAE is a significant hub for mobile phone freight, it is crucial to know the safety data sheets required for this shipment. The safety data sheets must include information on the proper handling and storage of mobile phones and the potential hazards that may be associated with them.
The below chart shows the penetration of smartphones in some countries; as you see, the UAE is one of the leading countries in this sector.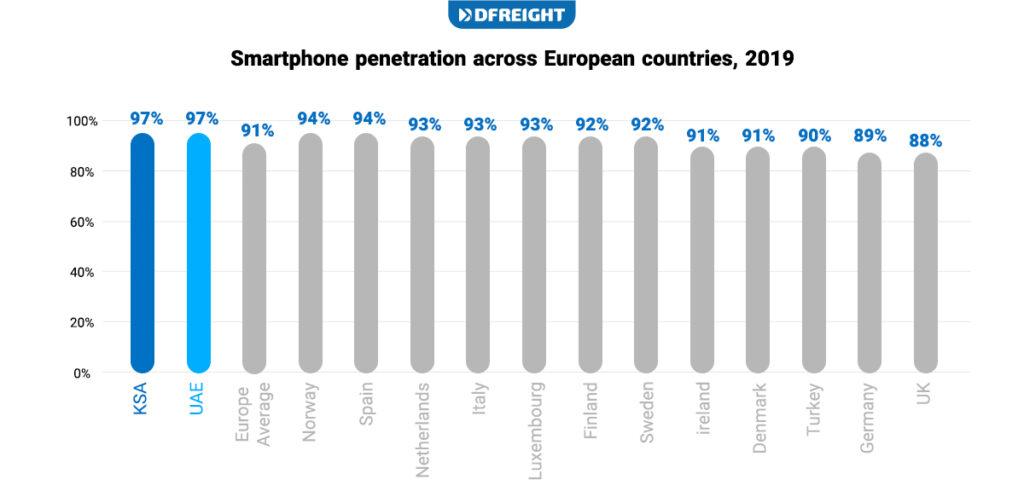 As the UAE hosted the Expo 2020 international exhibition, 2021 was shaping to be another significant year for mobile phone imports. As a result of the flood of visitors from all over the world, demand for mobile phones has never been more robust.
The UAE will continue to be a significant market for smartphone shipments in the coming years. This is due to the country's strong economic growth and its increasing population of young, tech-savvy consumers.
The Industry's Future
The future of mobile phone freight services is looking very promising. With the ever-increasing demand for mobile phones, there is no doubt that the demand for mobile phone freight services will continue to grow. This is especially true in developing countries where the need for mobile phones is increasing exponentially. There are many reasons why the future of mobile phone freight services is looking so bright:
The mobile phone industry is one of the fastest-growing industries in the world. So there is a constant need for mobile phones to be shipped from one place to another.
This sector is very competitive. This means there are always new and innovative ways to ship mobile phones more efficiently and at a lower cost.
We are talking about a very globalized industry that has to be able to operate in many different countries and across many different time zones.
Finally, it is dynamic; new and exciting opportunities are constantly emerging for mobile phone freight services.
These factors make it clear that the future of mobile phone freight services is bright. There is no doubt that the mobile phone industry will continue to overgrow and that the demand for mobile phone freight services will continue to grow.
Conclusion
DFreight, like all other sectors, is with you in the field of mobile transportation if you are searching for a well-established and trustworthy organization. Please contact us with any questions, complaints, or suggestions you might have.
What is the best way to ship a mobile phone?
Like other delicate and sensitive goods, air transportation is a good choice for this, but consider your conditions, budget, and priorities like other cargoes.
What do I need to do to prepare my mobile phone for shipment?
Place the phone in a static-free bag, wrap each accessory separately in bubble wrap to avoid causing damage to each other, place them in the middle of a padded envelope or box, make sure you restrict any movement and seal the bag properly.
What is the cost of shipping a mobile phone?
The cost of shipping a mobile phone will vary depending on the size and weight of the phone, as well as the distance it is being sent, and on a larger scale, the overall size and weight of the cargo are also determinative.
What are the benefits of using a shipping agent in Dubai for mobile phone shipping?
Shipping agents in Dubai provide comprehensive services such as customs clearance and delivery, provide access to a wide range of shipping solutions and carriers, optimize logistics and supply chain operations, and offer competitive shipping rates.