2023 offers various paths to pursue aspiring warehouse managers looking to maximize their earning potential. From logistics managers to purchasing managers and operations directors, several different roles offer lucrative salaries that warehouse managers in 2023 may want to investigate. To help those embarking on this exciting career path, DFreight has compiled a list of the highest-paying positions in the warehouse manager field, according to ZIPPIA.com, to give them an idea of where their skills and commitment could take them! With an abundance of job opportunities at hand and numerous available roles with rewarding salaries, there's never been a better time to consider a career as a warehouse manager.
If you're eager to take on a vital role in an expanding business, consider Warehouse Manager jobs. Take some time to check out this blog article to learn about warehouse manager jobs, pay rates, and duties.
Key Highlights of Top Highest-Paid Warehouse Manager Jobs
The highest-paid type of warehouse manager is a distribution center manager, with an average compensation of $99,459 and an hourly rate of $47.82.
The second highest-paying type of warehouse manager is distribution manager, with an average salary of $89,264.
An average warehouse manager makes $62,189 annually, or $29.90 per hour.
Find Your Rate
Warehouse Manager Jobs, Salaries, and Duties
A Warehouse Manager Job is a great career choice for someone looking for a challenging position in a growing industry. Warehouse managers are responsible for all aspects of warehouse operations, from handling inquiries and scheduling orders to managing stock, ensuring that goods are delivered on time and at the highest quality, and customer satisfaction from order fulfillment. Working with various departments such as logistics, customer service, and finance, the Warehouse Manager must be an effective leader with strong organizational and problem-solving skills.
Additionally, the Warehouse Manager must ensure that employees and customers are satisfied to reach the goal of successful warehouse operations. Depending on experience, Warehouse Managers can make an average salary of around $62,189 annually, or $29.90 per hour, with the potential to earn more.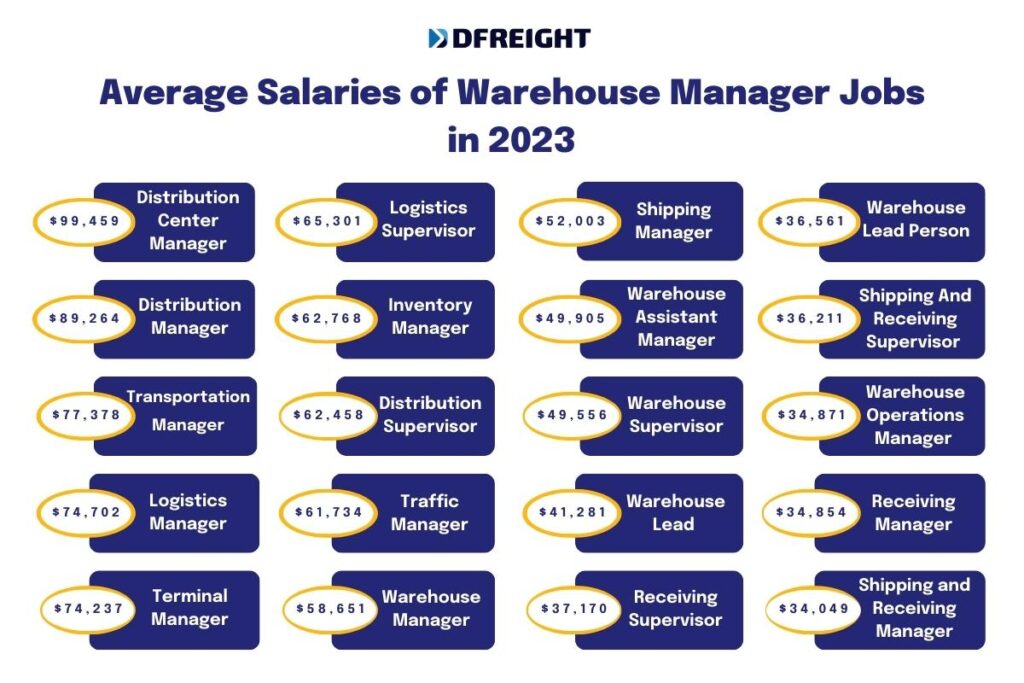 Distribution Center Manager
Average Salary: $99,459
A distribution center manager oversees all daily operations of a warehouse, distribution center, or shipping facility. Distribution center managers must handle package loading and unloading and ensure adequate product storage. They analyze freight services and manage vendors. Distribution center managers must also ensure worker safety and proper storage.
Distribution Manager
Average Salary: $89,264
Distribution managers handle product distribution, storage, and delivery. Distribution managers process shipments, use software to track stock levels and order status, negotiate contracts with suppliers and third-party vendors, identify business opportunities to boost productivity and performance and develop supply strategies to reduce costs without compromising quality. A distribution manager must have strong communication and critical-thinking skills to coordinate with teams to meet corporate goals.
Transportation Manager
Average Salary: $77,378
Transportation managers manage all company transportation activities. Transportation management must examine and maintain vehicles to ensure the safe delivery of goods and passengers. Transportation managers must verify driver and operator qualifications before recruiting. They should also prevent overbooking and retain correct passenger and cargo records.
Logistics Manager
Average Salary: $74,702
Logistics managers coordinate, buy, and distribute products through supply chains. Logistic managers oversee supply chains. They monitor personnel to ensure workplace safety, answer customer concerns, and design operations strategies. They also negotiate with manufacturers, suppliers, retailers, and customers. These meticulous inventory managers keep supply chain procedures running.
Terminal Manager
Average Salary: $74,237
Terminal managers supervise employees and logistics vehicle dispatching. These managers must work with corporate and operational departments to meet company logistics standards. To keep customers, they must solve customer service issues. Terminal drivers must instruct new drivers to be licensed, tested, and certified under federal and state rules. Their facility and equipment must be clean and safe.
Logistics Supervisor
Average Salary: $65,301
Logistics Supervisors manage supply chain operations. They must smoothly organize, control, and manage supplier-customer products flow. Managing staff, setting budgets, keeping accurate records, guaranteeing efficient goods transit, and designing efficiency plans are responsibilities. They must also match client expectations while being cost-effective.
Inventory Manager
Average Salary: $62,768
Inventory managers order, receive, store, and distribute inventory. They also design strategic inventory management and monitoring methods without affecting production. Other duties include working with other departments to assess inventory needs, negotiating contracts with vendors for the lowest price, tracking orders, and using databases to analyze inventory levels.
Distribution Supervisor
Average Salary: $62,458
Distribution Supervisors coordinate warehouse distribution activities. They drive the distribution team to optimize processes and systems. Inventory accuracy, shipment scheduling, labor management, and budget allocation are essential roles. They also set and monitor safety and performance requirements. Distribution Supervisors collaborate with customers and supply chain management.
Traffic Manager
Average Salary: $61,734
Traffic managers ensure product movement in a company. They coordinate resources and personnel, plan and implement schedules, set shipping deadlines, manage financial budgets, oversee customer relationships, build and maintain carrier relationships, facilitate in-transit visibility, and take corrective action to ensure on-time shipments. To cut costs and boost service, they examine performance data.
Warehouse Manager
Average Salary: $58,651
Warehouse managers manage daily operations. This includes assigning personnel to the correct jobs, using equipment safely and efficiently, and creating and maintaining a safe and secure workplace. Warehouse managers must grasp inventory, supply chain, and shipping and receiving cost management. They must also be able to plan and coordinate complex projects, lead a team, and solve problems.
Shipping Manager
Average Salary: $52,003
Shipping Managers handle an organization's shipping operations. The Shipping Manager organizes shipments, tracks and verifies cargo information, follows shipping regulations, and communicates with carriers and clients. Shipping Managers must also distribute shipments, order supplies, and answer customer inquiries. Additional duties may include staff training, budgeting, shipping, and customer satisfaction.
Warehouse Assistant Manager
Average Salary: $49,905
A Warehouse Assistant Manager is responsible for monitoring the operations of a warehouse, including organizing and controlling inventory, managing workers, and ensuring seamless daily operations. They must be very organized, detail-oriented, and able to problem-solve swiftly and precisely. In addition to their primary activities, they must be able to monitor and manage budgets, place orders, maintain customer service, and guarantee that safety standards are met.
Warehouse Supervisor
Average Salary: $49,556
Warehouse Supervisors manage workers and operations. They manage resources, staff, efficiency, and safety. This position oversees warehouse receiving, storage, and distribution. The Warehouse Supervisor maintains operational standards, safety, and workplace improvement. Overseeing items in/out, personnel performance, inventory levels, and warehouse management systems are important.
Warehouse Lead
Average Salary: $41,281
A Warehouse Lead is essential to a warehouse's daily operations. The Warehouse Lead organizes the receipt, storage, distribution, and return of products and materials. They train personnel in safety precautions and their tasks. They supervise everyday operations, evaluate worker productivity, and resolve warehouse problems. They may manage inventory and purchase resources with an automated system. Warehouse Leads also manage records, inspect the equipment, and order supplies.
Receiving Supervisor
Average Salary: $37,170
Receiving Supervisors manage an organization's receiving procedure. They track, manage, account for, and accept incoming goods and services. They must pay close attention to ensure that all shipments match industry requirements. The Receiving Supervisor also develops and implements cost-effective receiving operations. This position involves managing staff, training, ordering and storing supplies, tracking shipments, and resolving concerns.
Warehouse Lead Person
Average Salary: $36,561
The warehouse lead person manages daily operations. They manage warehouse personnel and ensure efficiency. They also manage inventories, load and unload goods, and fulfill customer orders. They must also ensure warehouse safety and proper process.
Shipping And Receiving Supervisor
Average Salary: $36,211
Shipping and Receiving Supervisors oversee in-house and third-party receiving, shipping, and storage. They verify inventory data by inspecting, receiving, and tracking inventory. They create processes, controls, and procedures to streamline operations. They manage, coach, and evaluate employees. They enforce internal and external policies. They handle orders and reconcile with vendors to ensure customer satisfaction and inventory movement.
Warehouse Operations Manager
Average Salary: $34,871
Warehouse Operations Managers run a warehouse or distribution center. They manage budgets, distribute supplies, maintain customer service, hire and educate workers, operate and troubleshoot new equipment, and ensure safety compliance. They must manage orders, track inventories, transfer items, and receive shipments quickly. They report warehouse productivity, safety, and order correctness.
Receiving Manager
Average Salary: $34,854
A Receiving Manager manages an organization's receiving goods, supplies, and products. This may entail ensuring safety and quality, coordinating receiving and stocking procedures, tracking inventory and shipments, and supervising receiving workers. They keep precise delivery records and provide efficient, cost-effective processes. Receiving Managers must be organized and communicate well with vendors and other departments. They must also know modern shipping techniques and pay attention to detail.
Shipping Receiving Manager
Average Salary: $34,049
Shipping and Receiving Managers oversee a company's shipping and receiving operations. Receiving, inspecting, storing, shipping, invoicing, and managing returned goods are included. They must collaborate with other departments and staff to ensure smooth operations and excellent customer service. The manager will supervise warehouse employees, operate forklifts, and record shipments and receipts.
Conclusion
In conclusion, becoming a warehouse manager can be a great job choice. This career provides high pay, job security, opportunities for advancement, and various job options. Warehouse managers also have strong job prospects and many employment opportunities. With a combination of experience, excellent organization skills, and up-to-date technology, you can become a successful warehouse manager, and you can make one of the highest-paying warehouse manager jobs.
What is the highest-paying warehouse manager job?
Distribution center managers have the highest-paying warehouse manager positions. Managers of distribution centers typically make $99,459 per year or $47.82 per hour.
What is a good salary for a warehouse manager?
A good salary for a warehouse manager is $62,189 or more. 
Do warehouse manager jobs pay well?
Yes, salaries for warehouse managers are high. Some warehouse manager jobs pay more than others, as in any business, but the average annual wage for a warehouse manager is $62,189, which is significantly higher than the $44,225 average yearly wage for all workers in the country.