The rates of air freight to Italy and ocean freight to Italy have increased sharply in recent years. Italy, which is located in southern Europe, became a member of the European Union in 1958 and was one of the first countries that joined the EU. The EU is a Customs Union made up of member countries that have joined together to establish a single customs region. Legally imported goods are free to move within the EU without extra customs regulations.
According to the Economic Complexity Index, Italy was the world's number 8 economy in terms of GDP, number 7 in total exports, number 10 in total imports, number 31 in terms of GDP per capita, and the number 19 most complicated economy in 2020.
Crude Petroleum, Cars, Packaged Medicaments, Petroleum Gas, and Gold are Italy's top imports, with the majority coming from Germany, France, China, the Netherlands, and Spain.
Air Freight to Italy Services
Air freight is divided into three categories: standard, expressed, and deferred.
Express Service
In express air service, your cargo will be transported directly to its final destination. There's no waste of time in between. When you choose express air service, you can be assured that your air cargo will be loaded into a plane that will only make one stop and that's in the destination airport.
Obviously, this method has a lot of advantages. Because your goods will be moved less frequently from one place to another and get less damaged. Also, because it is on a direct flight to its destination, it will arrive much faster than other means of shipping, making this an extremely advantageous mode of air shipping for businesses that need to get their goods to their customers as quickly as possible.
Standard Service
While a standard air service can fly directly to its destination on rare occasions, it generally makes one or two stops along the way. The purpose of these pauses is to deconsolidate and reconsolidate cargo. While standard air service is slower than express air service, it is still a quick form of transportation.
The most obvious advantage of regular air service is that charges are usually decreased significantly. 
Deferred Service
"Deferred air service" is the final and the most cost-effective air freight to Italy service. In  Deferred air service, as you might expect, the plane stops many times along the way.  This is advantageous for air carriers because they can expect high volumes of air cargo shipments to be moved from major airports to smaller airports. This reduces traffic congestion at their major airport and defers work to smaller cargo planes afterward.
Top Cargo Airports in Italy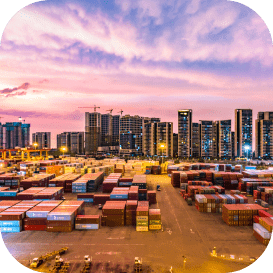 Milano Malpensa Airport
Milano Malpensa airport is centrally located in the southern part of Europe, in the heart of Italy's most industrialized region. Within a 300-kilometer radius, there are Italian businesses with the highest import-export rates and important production centers in Switzerland and France. Malpensa is the only airport in southern Europe in the top ten European airports for cargo transportation, making it the most significant airport for cargo.
Incoming and outgoing cargoes could quickly reach the most significant operational bases of the major shipping companies and the leading logistics operators, not only in Italy, but also in the main neighboring states, thanks to a well-developed network of road connections.
The freight industry had a lower decrease. Freight handling decreased by 24.2 percent in 2020, to 804 thousand tons of cargo, compared to 2019. Milan Malpensa handled around 516 thousand tons, a 7.5 percent decrease. Milan Malpensa, Rome Fiumicino, and Bergamo have all had large freight traffic in the past.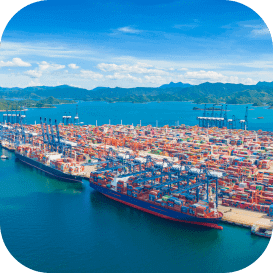 Rome Fiumicino Airport
The Fiumicino Airport is another name given to the Leonardo Da Vinci Airport, which is highly active in the field of air freight to Italy. It is Italy's busiest airport, with more than 75 metric tonnes of cargo transported in 2020. The Fiumicino Airport serves over 80 airlines and has been a hub for Alitalia's successor, ITA Airways, after 15 October 2021.
There is also a dedicated cargo terminal called "Cargo City", which was constructed in 2004.
While American and Israel airlines check-in desks opened at Terminal 5 in 2008, passengers were transported to what was then known as Satellite C. The terminals were redesignated in 2009: A became T1, AA became T2, B and C became T3, and T5 remained unchanged.
Terminal 5 was closed for renovation in January 2017; a new central hall is now being constructed in the center area.
The former Terminal 2 was permanently closed on 15 December 2017, to make room for Terminal 1's northwest expansion. Alongside Terminal 1, new three-story boarding and waiting area is being built, as well as a new Pier A with 13 boarding and 10 remote gates, set to open in Summer 2022.
Terminal 1 was closed from 17 March 2020 to 6 August 2021 as a result of decreased passenger traffic caused by the Covid-19 outbreak.
A new Terminal 4, runway expansions, and additional buildings for car parking, services, and airport facilities are all going to be built in the future.
Statistics
Air freight is one of the quickest and most efficient ways to transport goods to Italy. By flying goods directly into the country, businesses can avoid the hassle and expense of shipping goods via land or sea. There are a few things to keep in mind when shipping air freight to Italy.
First, businesses must ensure that their goods are properly packaged and labeled.
Second, businesses should research the customs regulations of Italy in order to avoid any delays or penalties.
Finally, businesses should choose an experienced and reputable air freight company to handle their shipping needs.
By following these simple tips, businesses can ensure that their air freight shipments to Italy arrive on time and without any problems.
There are many reasons why air transport is so popular for trade. Airfreight is fast and reliable. Airfreight service, which is important for time–sensitive and perishable goods. Airfreight is also flexible. It can transport small or large shipments and accommodate special requirements like temperature–controlled containers.
The main airport for air trade in Italy is Milan Malpensa Airport, which is located in the northwest of the country. Other important airports for air trade are Rome Fiumicino Airport and Venice Marco Polo Airport. Italy is a major player in the global air cargo market. The country is home to several leading air cargo carriers, including Alitalia Cargo, Blue Panorama Cargo, and Neos Air Cargo.
These airlines offer a wide range of services to meet the needs of businesses and consumers. Air cargo is an important part of the Italian economy. It supports jobs in a variety of industries, including aviation, logistics, and manufacturing.
Pick up and delivery
Land transportation
Ocean freight transportation
Customs clearance
Documentation
Rules & Regulations
There are a few things to keep in mind when shipping air freight to Italy. First, all shipments must be properly labeled with the correct documentation. Secondly, it is important to choose an experienced and reputable air freight company to ensure your shipment arrives safely and on time. Lastly, be sure to familiarize yourself with the customs regulations of Italy in advance to avoid any delays or issues.
When it comes to labeling, all air freight shipments to Italy must include a Shipper's Letter of Instruction (SLI) which details the contents of the shipment. In addition, all shipments must be clearly labeled with the name and address of the shipper and consignee, as well as a list of the contents. Proper labeling is essential to avoid any delays or issues with customs.
When selecting an air freight company, it is important to choose one with experience shipping to Italy. Be sure to ask about their experience, as well as whether they have any relationships with Italian customs or airlines. Getting recommendations from other businesses or individuals who have shipped to Italy in the past is also a good idea.
Lastly, be sure to familiarize yourself with the customs regulations of Italy in advance. This includes knowing what items are restricted or prohibited from being shipped into the country. It is also a good idea to have all of the required documentation in order before shipping, as this can help avoid any delays.
Import & Export to/from UAE
In 2021, Italy's imports and exports totaled $836.4 billion, up from $746.8 billion in 2020. Italy's top exports include motor vehicles, machinery, clothing, and food. Its top imports include machinery, chemicals, petroleum, and metals.
Italy is a member of the European Union (EU) and its export and import trade is governed by EU trade policies. Italy is also a member of the World Trade Organization (WTO) and its trade is subject to WTO rules and regulations.
The Italian economy is export–oriented and its exports account for a large percentage of GDP. In 2021, exports are forecast to grow by 5.0% and imports by 4.5%, in line with the global trade recovery.
Italy is a major producer of food and agricultural products. It is the world's leading producer of olive oil and wine. Italy is also a major producer of fruit and vegetables, dairy products, meat, and fish. Italy's main export markets are the United States, Germany, France, the United Kingdom, Spain, and China. Italy's main import markets are Germany, China, France, the United Kingdom, and the Netherlands.
The United Arab Emirates (UAE) and Italy have a strong trade relationship. In 2016, the UAE was Italy's 13th largest trade partner, with bilateral trade totaling €17.4 billion. The UAE is a significant market for Italian exports, particularly in the areas of machinery, transportation equipment, and chemicals. Italy is also one of the UAE's top 10 suppliers of imported goods. The two countries have strong economic ties, with Italian companies investing heavily in the UAE's infrastructure and energy sectors.