In the world of furniture retail, Multi Home Furniture LLC stands as a giant, importing over 200 containers of furniture primarily from the Far East, including countries like China and Thailand, to the Ajman port in the United Arab Emirates (UAE). Established in 1975, Multi Home Furniture has grown into one of the UAE's foremost wholesalers and retailers of household and office furniture. Their ambitious international expansion plans required a logistics partner that could handle their extensive shipping needs efficiently. This is where DFreight stepped in, forging a partnership to enhance Multi Home Furniture's global supply chain.
Multi Home Furniture: Four Decades of Evolution and Growth
Multi Home Furniture LLC, with its roots dating back to 1975, has become a household name in the United Arab Emirates. Over the last 35 years, the company has steadily expanded its reach, evolving into a major player in the furniture industry. With an annual import of 200 containers, Multi Home Furniture LLC has been seeking a reliable logistics partner to navigate the complexities of international shipping.
Their primary route included importing furniture from the Far East to the Ajman port in the UAE, making the need for a robust and efficient supply chain solution imperative. DFreight has played a crucial role in this journey, moving about 30 containers for them per month, ensuring the seamless flow of goods to support Multi Home Furniture's growth and expansion.
Empowering Multi Home Furniture LLC's Global Growth with DFreight
DFreight, a leading logistics and freight forwarder company based in the UAE, stepped up to the challenge presented by Multi Home Furniture LLC. Recognizing the importance of a seamless supply chain in their client's global expansion strategy, DFreight introduced a state-of-the-art platform equipped with real-time tracking and communication features. This platform proved to be the linchpin in optimizing Multi Home Furniture's logistics operations.
The real-time tracking feature allowed Multi Home Furniture to monitor the movement of its containers at every stage of the shipping process. This level of transparency not only enhanced their inventory management but also provided the company with real-time insights into delivery schedules, ensuring that customer demands were met efficiently.
Additionally, the robust communication features of the platform facilitated constant and clear communication between Multi Home Furniture LLC and DFreight. This open line of communication enabled swift problem-solving, real-time shipment updates, and the ability to adapt to unforeseen challenges.
Farshad Kiafar, CEO of DFreight, shared his perspective on the partnership, saying: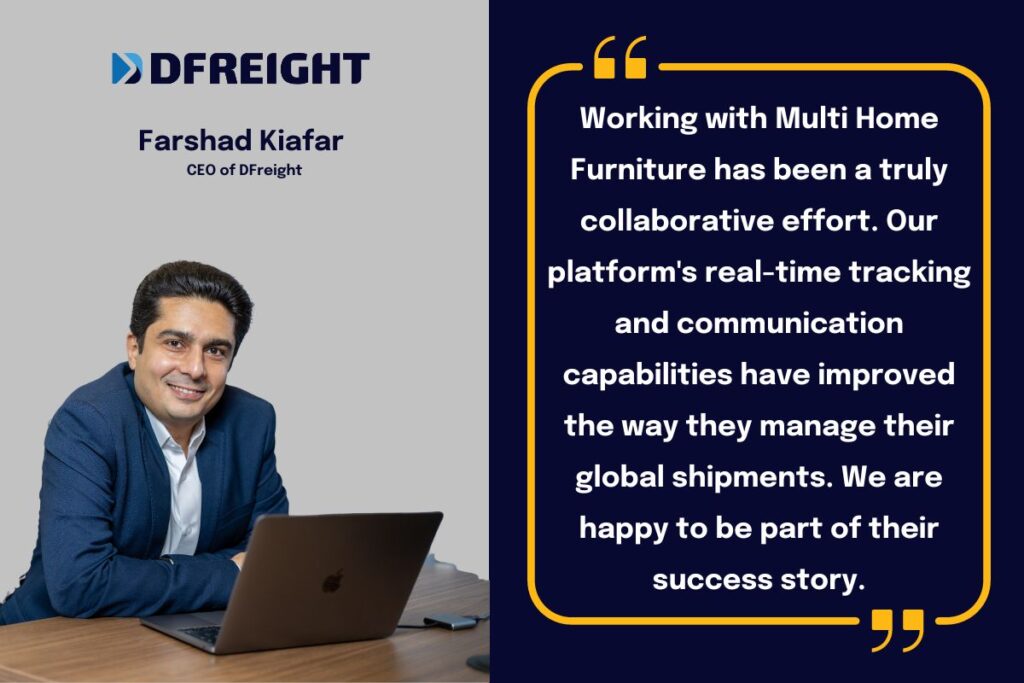 An official at Multi Home Furniture LLC also commented, stating, "DFreight's innovative logistics solutions have significantly streamlined our operations. With their support, we've been able to not only maintain our high standards of quality and delivery but also expand our global reach with confidence."
Future Prospects for Both Companies
The future of the collaboration between Multi Home Furniture LLC and DFreight looks really promising. With the seamless logistics solutions provided by DFreight's platform, Multi Home Furniture is well-positioned to continue its international expansion, serving customers worldwide with quality furniture. The partnership is set to bring further achievements and open new horizons for both companies as they move forward together in the dynamic world of global commerce.