At DFreight, we are delighted to announce our successful partnership with American Specialty Foods Co. (ASFCO)! This collaboration marks a momentous milestone in our journey, as working with such a reputable brand has been a great challenge and honor. We are proud to have achieved a successful partnership and look forward to continuing our journey together. Through this case study, we will provide an in-depth look at our cooperation with ASFCO to ship its business cargo of packaged food products over various trade lanes worldwide and the benefits we have both gained.
Overview of American Specialty Foods
Housed in New York, American Specialty Foods Co (ASFCO) is an MNC that has revolutionized the way Americans enjoy food. With a commitment to delivering fresh, hygienic, and quality food and beverages, American Specialty has sought to redefine American cuisine in millions of households. From fresh farm-grown potatoes to hand-picked chili peppers, all its products are inspired by America's love story with food since the beginning of time.
Backed by modern technology and attention to detail, American Specialty has crafted a unique range of flavored chips, tortillas, dips, and seasonings. All ASFCO products are made with natural flavors, authentic ingredients, and bold tastes and are endorsed by the highest food qualification to ensure that they are packed with nutrients.
At American Specialty, customers can expect a premium experience focused on convenience, quality, and affordability. Every American Specialty product treats consumers to a delightful combination of unexpected tastes. As a result, American Specialty has become a well-recognized brand in the food industry, shaping American and Middle East palates with a delightful combination of unexpected tastes.
Shipping Challenges Faced by American Specialty Foods
American Specialty Foods Co. was facing various challenges in shipping its products worldwide. It was a big problem for them to find reliable freight carriers who could deliver their goods quickly and cost-effectively within the GCC region. Furthermore, tracking their shipments proved challenging, as they had no real-time visibility over their freight throughout the process. In addition, the company needed to streamline its logistics processes to reduce costs and improve efficiency while ensuring its products arrived in good condition and on time, as any delays would lead to food spoilage and, ultimately, widespread customer dissatisfaction.
In a nutshell, ASFCO needed a comprehensive logistics solution that could help them address all these challenges while enabling them to manage all their shipments efficiently in one place. This solution had to provide visibility into their shipments, create more efficient processes, and deliver their products on time and in pristine condition to ensure quality and customer satisfaction.
How DFreight Helped American Specialty Foods
The cooperation between DFreight and American Specialty Foods Co. has been an impressive experience. Since July 2022, when DFreight received its first cargo booking from ASFCO, we have handled a large number of shipments of food products for the company, with many shipments still in transit. So far, DFreight has shipped loads of 40ft High-Cube containers of ASFCO food products, mainly from USA and Mexico, to various countries within the GCC region, including the UAE, Bahrain, Oman, Jordan, Kuwait, and Saudi Arabia.
Despite slight inconsistencies regarding the operation process as part of the business, DFreight professionals have tried their utmost to provide ASFCO with the best-customized solutions tailored to their specific needs. During the transit time, DFreight provided ASFCO with automated tracking, allowing for real-time visibility of its shipments. Furthermore, they have been provided with our digital freight platform, through which they benefited greatly from the Track & Trace and Document Center Features.
DFreight also provided American Specialty Foods with transparent pricing, helping to ensure they were aware of all the costs breakdown involved. We also managed to match their target rates with our competitive prices, which was highly appreciated. ASFCO authorities were also satisfied with the ease of communication through the DFreight platform, allowing them to contact and raise any concerns or questions easily and promptly.
Strengthening the Partnership
The future of the partnership between DFreight and American Specialty is looking bright. We have established a strong working relationship and have seen great success in the past shipments. Moreover, ASFCO is highly satisfied with the user-friendly interface, straightforward communication, transparent rates, and convenience the DFreight digital platform offers.
On the 10th anniversary celebrations of American Speciality, DFreight was awarded the "Strategic Partnership" statue of appreciation. This award is a testament to the strong partnership between DFreight and American Speciality. We look forward to taking the partnership to the next level, with plans to expand our digital platform further and explore new opportunities to help ASFCO succeed in its logistics needs.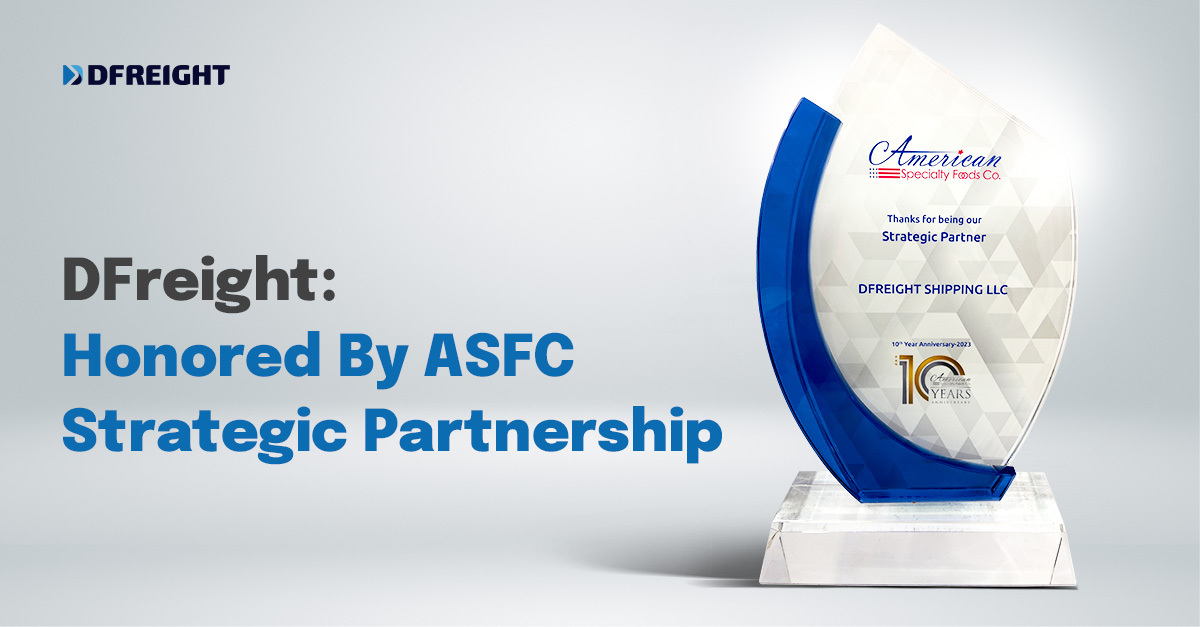 We aim to increase our market share, win new port pairs, and get ASFCO more active on our platform so that they can realize the full potential of our platform's advantages. Furthermore, we have learned much from the partnership, including more ideas about reliable agents and better insights into the company's vast market. This will allow us to compete better with traditional freight forwarders and provide ASFCO with the best possible services and prices.
DFreight: Your Digital Freight Partner to Experience Unmatched Transparency, Visibility, and Efficiency
DFreight is a leading digital freight forwarding platform that provides end-to-end logistics solutions to Medium to Large Enterprises (MLEs). As a UAE-based company, DFreight can provide fast, reliable, cost-effective freight forwarding services by combining cutting-edge technology and logistics expertise. Through its digital platform, DFreight allows businesses to manage their air freight, ocean freight, and land freight shipping needs efficiently and timely, streamlining their logistics operations.
If you're looking for an efficient and cost-effective way to manage your freight shipping needs, look no further than DFreight. Join the revolution in digital freight forwarding and find the best freight quote today!