Air Freight to Saudi Arabia
Find the Best Freight Quote
Saudi Arabia's economy is one of the most dynamic in the world. You can benefit from Saudi Arabia's economic growth by exporting goods there if you are a manufacturer or an exporter. However, entering new sales marketplaces successfully necessitates in-depth professional knowledge. 
Saudi Arabia aims to expand its foreign trade and increase air freight to Saudi Arabia rates, but imports must meet certain certification standards. It is only possible to export goods to Saudi Arabia if your products match certain requirements. At the time of import, these certifications must be given to the customs officials.
According to the Economic Complexity Index, Saudi Arabia was the world's number 20 economy in terms of GDP, number 30 in total exports and total imports, number 46 in terms of GDP per capita, and the number 32 most complicated economy in 2020.
Cars, Radio, and Television Equipment, Refined Petroleum, Packaged Medicaments, and Mobile phones are Saudi Arabia's top imports, with the majority coming from China, the United Arab Emirates, the United States, Germany, and India.
Air Freight to Saudi Arabia to/from UAE
Services for air freight to Saudi Arabia are divided into three categories: standard, expressed, and deferred.
Air Express Service
Your cargo will be delivered directly to its destination when using an express flight service. No time is wasted in the interim. You can be confident that when you choose rapid air service, your air cargo will be loaded onto a plane that will only make one stop, which will be at the airport of your choice.
It is clear that this approach provides a lot of benefits. because they will be relocated less frequently, resulting in less damage to your products. For companies that need to deliver their products to clients as soon as possible, this way of air shipping is quite advantageous because it is on a direct route to its destination and will arrive considerably faster than other methods of shipping.
Standard Air Service
While a standard air service can fly directly to its destination on rare occasions, it generally makes one or two stops along the way. The purpose of these pauses is to deconsolidate and reconsolidate cargo. While standard air service is slower than express air service, it is still a quick form of transportation.
The most obvious advantage of regular air service is that charges are usually decreased significantly.
Deferred Air Service
"Deferred air service" is the final and the most cost-effective air service type. In  Deferred air service, as you might expect, the plane stops many times along the way.  This is advantageous for air carriers because they can expect high volumes of air cargo shipments to be moved from major airports to smaller airports. This reduces traffic congestion at their major airport and defers work to smaller cargo planes afterward.
Top Cargo Airports in Saudi Arabia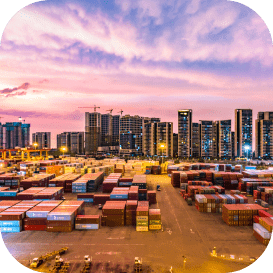 King Khalid International Airport
The architectural company HOK designed King Khalid International Airport, which is located 35 kilometers (22 miles) north of Riyadh, Saudi Arabia.
One of the world's tallest central control towers, a mosque, 12000 vehicle parking spaces, five passenger terminals (only three of which are in use), eight aerobridges per terminal, a Royal Terminal for visitors to the kingdom, government officials, and Saudi royal family, and two parallel runways measuring 4,260 meters (13,980 feet) that are open 24 hours a day and contribute to the significant amount of air freight to Saudi Arabia.
King Fahd International Airport was once the largest airport in the world in terms of ground area, but KKIA now has the second-largest land area in the world. The airport is governed and run by the Riyadh Airports Company.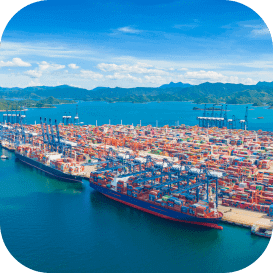 King Abdul-Aziz International Airport
The King Abdulaziz International Airport (KAIA) is a major international airport in the Saudi Arabian city of Jeddah.
The third-largest and busiest airport in Saudi Arabia served around 17.8 million passengers in 2010. It was founded in 1981 and is named after King Abdulaziz Al Saud, the monarch who founded Saudi Arabia. It is the largest hub for Saudi Arabia's national airline, Saudia, and it handles the majority of foreign traffic and freight.
All three passenger and cargo terminals—the North Terminal, the Hajj Terminal, and the brand-new Terminal 1—are in use. Muslims who travel to Mecca annually for the Hajj have their own terminal built just for them.
Statistics
According to the Saudi Ministry of Transport, a total of 1,256,639 containers were shipped to Saudi Arabia in 2021. This is a slight decrease from the 1,258,523 containers shipped in 2020. The top five countries shipping containers to Saudi Arabia were China, the United Arab Emirates, India, Bahrain, and Qatar.
There was a total of 1,035,256 TEUs shipped to Saudi Arabia from January to September 2020, a 3.2% increase from the same period in 2019. The top ports for container shipping to Saudi Arabia were Jeddah Islamic Port, King Abdulaziz Port, and Dammam Port.
The statistics on aviation freight to Saudi Arabia in 2021 have been made public by the Saudi government. In 2021, Saudi Arabia transported 1,025,527 metric tons of air freight, an increase from 992,865 metric tons the previous year. Live animals, meat, vegetables, fruit, and fish were Saudi Arabia's top five airborne exports in 2021. In 2021, live animals, meat, vegetables, fruit, and fish were the top five imports by air to Saudi Arabia.
Pick up and delivery
Land transportation
Ocean freight transportation
Customs clearance
Documentation
Rules & Regulations
The Kingdom of Saudi Arabia has very strict rules and regulations when it comes to shipping. All shipments must be approved by the Saudi Ministry of Foreign Affairs and the Saudi Customs Authority. All shipments must be accompanied by a commercial invoice, packing list, and bill of lading. The Consignee must have a valid import license. All shipments are subject to inspection by the Saudi Ministry of Health. Prohibited items include alcohol, pork products, weapons, and pornography.
Regarding aviation cargo, the Kingdom of Saudi Arabia has stringent guidelines. A Bill of Lading and a Shipper's Letter of Instruction (SLI) are required to be included with every shipment (BL). A thorough description of the items being sent must be included in the SLI together with the shipper and consignee's contact information. The same information, along with the shipment's weight and measurements, must be listed on the BL. All shipments must be declared to Saudi Customs, and any shipments of hazardous materials require a current Dangerous Goods Declaration.
Import & Export to/from UAE
Saudi Arabia is the world's leading oil exporter and plays a central role in OPEC. The Kingdom has the world's second–largest proven reserves of oil and is the largest exporter of petroleum. It is also the largest producer of crude oil and the second–largest producer of natural gas.
The Saudi Arabian economy is heavily reliant on oil profits, which make up around 90% of export earnings, 70% of government income, and 30% of GDP. The Saudi economy is therefore greatly affected by changes in oil prices.
This country has taken steps to diversify the economy and reduce its dependence on oil revenues, but oil will continue to play a dominant role in the economy in the foreseeable future.
To decrease the nation's trade deficit and spur economic growth, the Saudi government has also prioritized growing exports of non-oil goods. Chemicals, plastics, and other manufactured goods exports from Saudi Arabia have dramatically expanded in recent years.
The Saudi government has been making efforts to enhance the economic climate and draw in international capital. To modernize the Saudi economy and make it more appealing to foreign investors, the Saudi government proposed a number of reforms in 2018. These measures are part of the Vision 2030 plan. Additionally, the Saudi government has been attempting to expand its export markets. The Kingdom of Saudi Arabia is now Asia's second-largest crude oil exporter as a result of tremendous growth in Saudi supplies to the region in recent years.
Strong commercial ties exist between Saudi Arabia and the United Arab Emirates (UAE). The two nations have a Free Trade Agreement (FTA) and a Joint Ministerial Economic Commission (JMEC). The UAE is Saudi Arabia's greatest trading partner, while Saudi Arabia is the UAE's second-largest trading partner. Both nations are members of the Gulf Cooperation Council and have a close economic relationship (GCC). The UAE is Saudi Arabia's biggest commercial partner, and the two nations enjoy strong economic ties. The two nations have a Free Trade Agreement (FTA) and a Joint Ministerial Economic Commission (JMEC). Saudi Arabia is a significant market for UAE exports, and vice versa. The two countries have a strong economic relationship and are members of the Gulf Cooperation Council (GCC).