Air Freight to Qatar
Find the Best Freight Quote
The volume of air freight to Qatar and ocean freight to Qatar has increased in recent years and it's due to the fact that Qatar is a high-income country with one of the highest per capita incomes in the world, indicating that the population has a lot of spending power. The country's economy is heavily reliant on oil and gas, allowing for substantial imports of nearly all goods across all sectors.
According to Trade Map, the top suppliers of commodities to Qatar in 2020 were the United States, China, the United Kingdom, Germany, India, Italy, and Turkey. The country's imports were about US$25.8 billion.
Focus is on air freight to Qatar in this article. The safest method of shipping cargo currently accessible is by far air freight. Superior dispatch speeds, accurate tracking via tracking numbers, and international monitoring services are just a few of the benefits that air freight offers.
Air Freight to Qatar Services
Services of air freight to Qatar are divided into three categories: standard, expressed, and deferred.
Express Service
Your cargo will be delivered directly to its destination when using an express flight service. No time is wasted in the interim. You can be confident that when you choose rapid air service, your air cargo will be loaded onto a plane that will only make one stop, which will be at the airport of your choice.
It is clear that this approach provides a lot of benefits. because they will be relocated less frequently, resulting in less damage to your products. For companies that need to deliver their products to clients as soon as possible, this way of air shipping is quite advantageous because it is on a direct route to its destination and will arrive considerably faster than other methods of shipping.
Standard Service
While a standard air service can fly directly to its destination on rare occasions, it generally makes one or two stops along the way. The purpose of these pauses is to deconsolidate and reconsolidate cargo. While standard air service is slower than express air service, it is still a quick form of transportation.
The most obvious advantage of regular air service is that charges are usually decreased significantly. 
Deferred Service
"Deferred air service" is the final and the most cost-effective air service type. In  Deferred air service, as you might expect, the plane stops many times along the way.  This is advantageous for air carriers because they can expect high volumes of air cargo shipments to be moved from major airports to smaller airports. This reduces traffic congestion at their major airport and defers work to smaller cargo planes afterward.
Top Cargo Airports in Qatar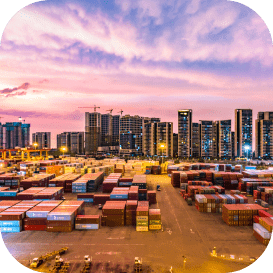 Hamad International Airport
The volume of air freight to Qatar was a total of 13.54 billion ton-kilometers in 2020. Around 2.22 million metric tons were handled at Hamad International Airport alone.
With one of the most advanced cargo terminals in the world, HIA serves as a foundation for Qatar Airways Cargo's growing worldwide air freight to Qatar business, allowing it to deliver smooth and efficient services to customers and cargo carriers all over the world. The new cargo handling facility is expected to create new service and quality standards not only for the Gulf area but for the whole world.
The cargo terminal at HIA, which is located in the center of the airport, has a capacity of 1.4 million tons of cargo per year. Warehouses, Automated Systems, offices, and shops are all part of the two-story cargo complex. The facility has 11 big freighter aircraft stands and 42 Airside loading docks, covering 55,000 square meters.
In addition, 31 landside truck loading facilities will make it possible to move freight in and out of Qatar quickly and efficiently. The advanced scanning technology will assure the facility's, staff's, and cargo's total safety and security.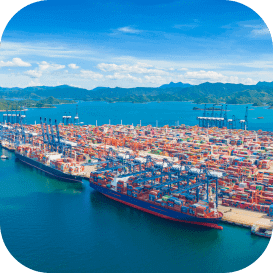 Al Khor International Airport
Al Khor Airport (ICAO: OTBK) is a Qatari airport located south of Al Khor. The airport has mostly been used by general and cargo aviation aircraft since 2008. Two runways with a PCN of 45 are available. The northern runway can accept six aircrafts, while the southern runway can accommodate two aircrafts.
The airport appears to be closed as of September 2021. Large crosses can be seen on the runway on Google Earth, suggesting that it is not in use.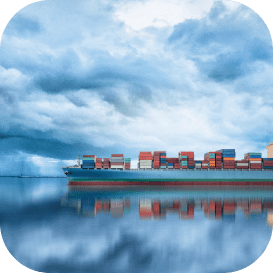 Al Udeid Air Base Airport
Statistics
In 2023, Qatar is expected to see an increase in shipping traffic due to the country's continued economic growth. Qatar is projected to be the world's fastest–growing economy in 2023, with a GDP growth rate of 5.8%. This growth is due to Qatar's continued development of its energy and infrastructure sectors.
The two major ports of the nation, Doha Port and Mesaieed Industrial Port, together handled 37.5 million tons of cargo in 2020, claims the Qatar Ports Management Company. This was a 5% rise from the previous year. With a cargo handling capacity of 22.9 million tons in 2020, Doha Port is Qatar's busiest port. In 2020, the Mesaieed Industrial Port moved 14.6 million tons of cargo. As the economy of Qatar continues to expand, increased traffic is anticipated at its ports in 2023.
In 2021, the total volume of air freight to Qatar is reached 1.8 million metric tons. This represents a significant increase of 15% over the 2020 volume of 1.58 million metric tons. The vast majority of this increase can be attributed to the strong growth in Qatar's economy, which is forecast to expand by 7.6% in 2021.
The top five airlines in terms of market share for air freight to Qatar are Qatar Airways (32%), Emirates (22%), Etihad Airways (12%), flydubai (9%), and Turkish Airlines (6%). Other airlines that operate flights to Qatar include British Airways, KLM, Lufthansa, and Qatar Cargo.
The top five airports in terms of volume for air freight to Qatar are Doha International Airport (36%), Hamad International Airport (30%), Abu Dhabi International Airport (12%), Dubai International Airport (9%), and Bahrain International Airport (3%).
Pick up and delivery
Land transportation
Ocean freight transportation
Customs clearance
Documentation
Rules & Regulations
Regarding the importation of commodities, the State of Qatar has put in place a variety of laws and restrictions. In addition to ensuring that all imported items adhere to the relevant norms and requirements, these laws and ordinances are intended to safeguard the nation's safety and security. All cargo coming into Qatar must be declared and have the necessary paperwork with them, such as a bill of lading, an invoice, and a packing list. Additionally, the Qatar Customs Authority must examine every consignment before it is allowed entry into the nation.
Alcohol, pork products, narcotics and drug paraphernalia, firearms and ammunition, certain chemicals, and hazardous materials are prohibited from being shipped into Qatar. If these rules and regulations are broken, serious consequences, including jail, may be imposed.
Import & Export to/from UAE
On the Arabian Peninsula, there lies a small country called Qatar. Qatar is one of the top oil and gas producers in the world despite its modest size. The vast majority of Qatar's export revenues are made up of hydrocarbons, which also account for a sizable amount of its GDP.
Qatar also exports a sizable amount of steel, fertilizers, and other goods. Hydrocarbons account for the majority of Qatar's import expenditure and predominate the country's imports. Qatar also imports a sizable number of manufactured goods, including food and machinery.
The Middle East is home to the UAE and Qatar, two nations. Both of them belong to the Gulf Cooperation Council (GCC). A political and economic union of Arab nations, the GCC, was established in 1981. Based on the GCC, the UAE and Qatar enjoy a commercial connection. Qatar and the United Arab Emirates have a robust trading partnership. The value of trade between the two nations in 2016 was $6.1 billion. Exports from Qatar to the UAE, which totaled $5.2 billion, constituted the majority of this trade.
Petrochemicals, natural gas, and crude oil are among the exports from Qatar to the UAE. Live animals, food, and machinery are all sent from the UAE to Qatar. Future growth in the UAE-Qatar commercial connection is anticipated. This is because both nations have a significant trading ties and are GCC members.