Air Freight to Brazil
Brazil is a significant market. With an area of 8.5 million square kilometers and a population of more than 207 million people, 85 percent of whom live in cities, exporting to Brazil is a good option since it is a country with a strong consumption potential.
Brazil is the world's tenth-largest economy. In 2022, its GDP was $3.585 billion USD, which highly increased from the previous year. Over the next several years, it is projected that this economic success will be sustained and expanded and that Brazil will reclaim its role as Mercosur's driving force.
The Brazilian population's purchasing potential, as well as the country's economic leadership in Mercosur, make it an appealing market for businesses looking to sell their goods. 
The exporter who wishes to sell his goods in Brazil must be aware of the procedures and regulations that must be followed, particularly those relating to administrative and customs rules.
Refined Petroleum, Vehicle Parts, Pesticides, Integrated Circuits, and Packaged Medicine are Brazil's top imports, with the majority coming from China, the United States, Germany, Argentina, and South Kore.
Pesticides, Mineral or Chemical Fertilizers, Malt, Phosphatic Fertilizers, and Hydrazine or Hydroxylamine Derivatives were Brazil's top imports in 2021.
Air Shipping Services to Brazil
Express, standard, and deferred air cargo services are available as air freight services. Which air service you pick will most likely be decided by the urgency of your package delivery.
Air Express Service
If your cargo is being transported by Express service, it will be placed on an aircraft and moved directly to its final destination. The most costly flying service is Express.
Standard Air Service
If your goods are being shipped by Standard service, it will most likely make stops at one or two airports, where it will either change aircraft or be loaded or unloaded with another cargo. The most popular air service is the Standard service.
Deferred Air Service
Your cargo will make many stops along the way to arrive at its final destination if it is shipped through Deferred air transportation. Although Deferred air service is less expensive than express air service, it is still more costly than shipping LCL (less than container load).
Top Cargo Airports in Brazil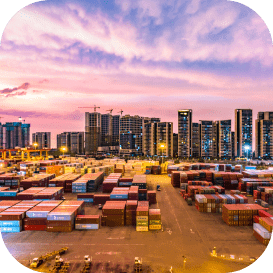 Sao Paulo Guarulhos Airport
Sao Paulo Airport in Brazil has been operating since 1985 and is supervised by Infraero. It was previously known as Cumbica Airport and is Brazil's largest airport.
The airport covers a total area of 13,774 square meters. Since 2003, the terminal has seen an average yearly increase in the number of passengers. More than 26 million people travel through this airport each year.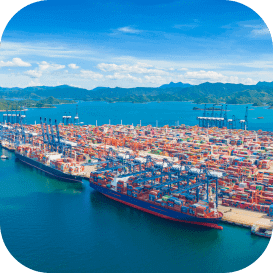 Rio De Janeiro Galeao Airport
The airport in Rio de Janeiro, Brazil, is the country's busiest airport. It has a passenger population of over 17 million people and 140,000 flights per year. It runs two terminals with a variety of facilities such as shopping, restaurants, ATMs, banks, coffee shops, bars, and vehicle rentals.
They are also on the verge of expanding. Terminal 1 has three corridors, whereas Terminal 2 has two. Real Auto Onibus is a company that provides bus transportation in Rio de Janeiro, Brazil. The frequency of buses to the central bus station is around every half hour.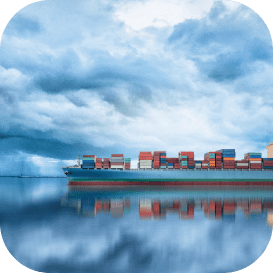 Brasilia International Airport
Brasilia airport is one of Brazil's most important international airports. It is situated in the Brazilian federal district of Lago Sul. It is one of the country's domestic hubs for flights. The airport rules set lodging, transportation, and terminal facilities.
The airport information desk is located in Terminal 1, and it provides information on both airlines and tourist attractions. Inside the terminals, there is also a self-service kiosk. The aforementioned international airport is a short 15-minutes distance from Brasilia (The central side).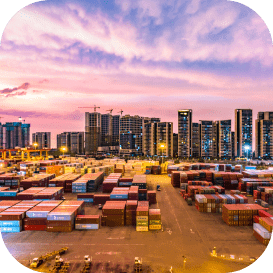 Deputado Luís Eduardo Magalhães International Airport
The international airport first opened its doors in 1998. It has the name of a well-known figure. Airlines such as Air Europa, GOI Transportes Aereos, LATAM Brasil, TAP Air Portugal, and others are among them.
It also includes cargo airlines, with destinations like as Fortaleza, Sao Paulo Guarulhos, and Belo Horizonte –Cofins. This airport is located 24 kilometers from Salvador's city center and handled 8.7 million passengers in 2020.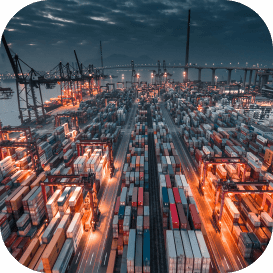 Afonso Pena International Airport
It is one of the airports that serve the Curitiba area. On 38 routes, there are roughly 113 flights. In the year 1945, it was formed and began operations. It includes LATAM Brasil, GOI Airlines, Paranair, and Azul Brazillian Airlines, among others.
It also includes cargo airlines. This airport is one of the city's most well-known, and it is located 18 kilometers from the city's center. This airport serves a population of over seven million people and has a physical capacity of 94,000 aircraft
Statistics
As the world's fifth largest country by both area and population, Brazil is a key market for the shipping industry. In 2022, the estimated volume of Brazilian imports and exports is expected to reach 1,829 million tons, an increase of 3.6% from the previous year. The top five commodities shipped to and from Brazil are iron ore, soybeans, crude oil, motor vehicles, and coffee.
The air freight industry to Brazil has seen significant growth in recent years due to the country's strong economic performance and increasing demand for Brazilian exports. Statistics from the International Air Transport Association (IATA) show that air freight to Brazil grew by 9.4% in 2017, reaching a total value of $5.4 billion. This growth is expected to continue in the coming years, with IATA predicting a 5.7% increase in air freight to Brazil in 2018.
The main drivers of this growth are Brazil's rapidly expanding economy and its status as a major global exporter of commodities such as food, oil, and minerals. In 2017, Brazil's GDP grew by 1.9%, and the country is expected to see further economic expansion in the coming years. This growth is translating into increased demand for Brazilian exports, which are being shipped increasingly by air freight.
The expansion of the Brazilian air freight industry is also being driven by the country's growing e–commerce sector. Online sales in Brazil grew by 25% in 2017, and this trend is expected to continue in the coming years. As more and more Brazilian consumers purchase goods online, there is a growing demand for efficient and reliable air freight services to ensure that these purchases are delivered in a timely manner.
The statistics on air freight to Brazil show that the country is a major growth market for the air freight industry. With strong economic growth and increasing demand for Brazilian exports, the air freight sector is expected to continue to expand in the coming years.
Pick up and delivery
Land transportation
Ocean freight transportation
Customs clearance
Documentation
Rules & Regulations
The rules and regulations of shipping to Brazil are quite simple and straightforward. All shipments must be declared and documentation must be provided in order to ensure that the shipment arrives safely and on time. In addition, all shipments must be insured in case of damages or loss.
When shipping to Brazil, the following documents are needed: a packing list, a commercial invoice, a bill of lading, and a certificate of origin. The packing list should detail the contents of the shipment, the commercial invoice should list the value of the goods being shipped, the bill of lading should list the carrier and route of the shipment, and the certificate of origin should list the country of origin of the goods.
Import & Export to/from UAE
The import and export business in Brazil is booming in 2021. The country has a lot to offer when it comes to goods and services, and there is a growing demand for Brazilian products abroad.
Brazil has a strong economy and a growing middle class, which is driving the demand for imports and exports. Brazil is a member of the World Trade Organization (WTO) and has a number of free trade agreements (FTAs) in place, which makes it an attractive market for foreign investors.
The Brazilian government is supportive of the import and export business and has put in place a number of incentives to encourage growth. The country has a well–developed infrastructure and a skilled workforce. In addition, Brazil has a large domestic market and is a major player in the global economy.
The import and export business in Brazil is expected to continue to grow in 2021. The country offers a lot of potential for businesses looking to expand their operations into new markets.
The United Arab Emirates (UAE) and Brazil have a strong trade relationship. The UAE is Brazil's largest trading partner in the Middle East and North Africa, and Brazil is the UAE's largest trading partner in South America. The two countries have a free trade agreement in place, and bilateral trade totaled $4.4 billion in 2016. The UAE is a major market for Brazilian exports, including soybeans, sugar, meat, and aircraft. Brazil is a major supplier of crude oil to the UAE.