Shipping to Argentina
Find the Best Freight Quote
Ocean Freight to Argentina
Argentina, after Brazil, is the second-biggest economy in South America, and the two countries are the only G-20 members in the region. Argentina is the world's greatest producer of soy, cotton, maize, sunflower seed, grapes, lemon, and pear, as well as the fourth largest producer of petroleum after Brazil, Venezuela, and Colombia.
Argentina is one of the world's major meat producers, with a reputation for excellent quality.
Furthermore, Argentina's membership in Mercosur and its relations with Spain make it a suitable destination for Spanish exports via ocean freight to Argentina.
Argentina, as a Mercosur member, uses the common external tariff (CET), which ranges from zero to twenty percent for most products. Some automobiles are subject to tariffs of up to 35%.
Import to Argentina from UAE
Buenos Aires
From: Jebel Ali
Montevideo
From: Jebel Ali
Zarate
From: Jebel Ali
Mar del Plata
From: Jebel Ali
Export from Argentina to UAE
Jebel Ali
From: Buenos Aires
FCL & LCL Sea Shipping to Argentina
FCL stands for 'Full Container Load,' and it refers to a container that is only used by one consignee. In international shipping, an FCL refers to a single container reserved only for the transportation of the shipper's goods. The shipper is not required to share the container with other shippers' cargo. This improves cargo safety and streamlines the management of ocean freight transportation.
Less than Container Load, or LCL, is used when the exporter does not need to book a full container since the goods do not require that much room. An LCL container is used for smaller shipments that need to be shipped cheaply and in a time-sensitive way.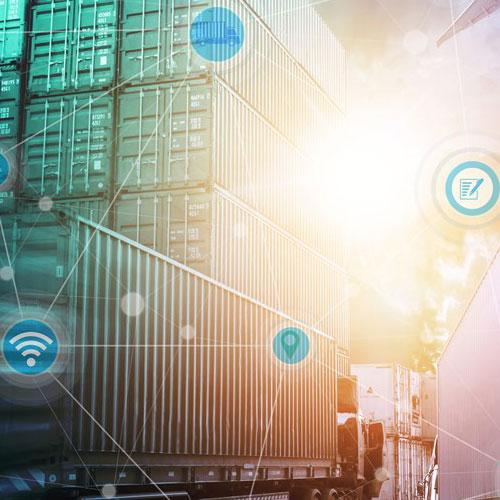 Major Sea Ports in Argentina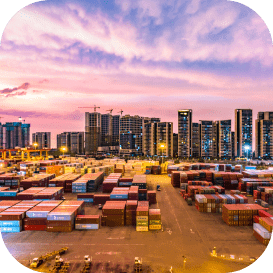 Buenos Aires Port
The Buenos Aires port, located on the southern bank of the River Plate, is Argentina's main seaport. It is also the country's economic, industrial, and cultural hub, with a complex river network connecting it to Paraguay, Uruguay, and Brazil. Buenos Aires is not only South America's cargo transportation hub, but also the world's thirtieth largest economy, thanks to the port city's strong services, advertising, finance, and real estate industries. This port plays a significant role in the rates of sea shipping to Argentina and vice versa.
Leather, grain, tobacco, agricultural goods, meat, dairy processing, automobile assembly, apparel, chemical factories, and other industries are all present in the city. The Pampa Humeda, a few kilometers from the harbor, is the country's largest agricultural zone. As a result, the port handles a wide range of goods while also serving as a popular tourist destination. Buenos Aires handles over 2300 ships, 11,810,000 tonnes of cargo, 1,152,000 TEU, and 1,000,000 people each year.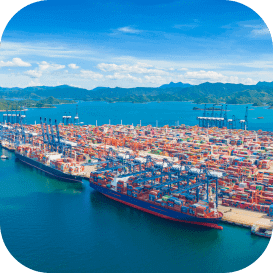 Bahia Blanca Port
The most important port facilities in Bahia Blanca Bay are Port Galvan, Port Rosales, and Ingeniero White Harbour, which span over 30 kilometers. The major port area of Bahia Blanca is accessed by a 96-kilometer-long, 185-meter-wide entry canal that can handle boats with a draught of 13.5 meters. Bahia Blanca Bay is designed to handle dry cargo and liquid bulk cargoes, with around 112,677,300 tonnes of cargo and over 1000 ships passing through each year.
The western entry canal from the Atlantic Ocean goes to the Punta Ancla and Ciguena buoys, which handle hydrocarbon shipments via its two SBMs, which are used by oil tankers to discharge crude oil to the La Plata refinery. After Buenos Aires port, this port is a great hub for sea shipping to Argentina and vice versa.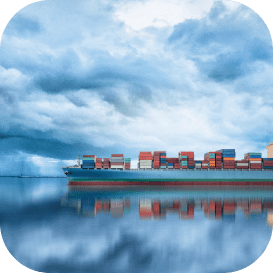 Santa Fe Port
Santa Fe port, located 90 miles miles south of Rosario at the junction of the Salado and Parana rivers, is the world's largest inland port, handling ocean trade between Argentina and the surrounding countries of Bolivia and Paraguay.
It is a multipurpose port that is vital to the economy of Santa Fe province since it exports agricultural products like wheat, soybeans, corn, peanuts, and beef, as well as minerals such as copper, gold, and car parts. It accepts sugar, petroleum products, and building materials in bulk. The port exports about 52,000 tonnes of grain on cargo ships and 20,000 tonnes on barges each year.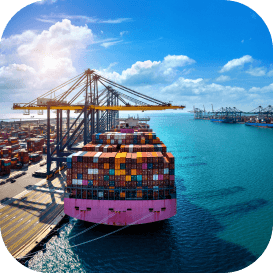 Rosario Port
The Port of Rosario is an inland port and a significant goods-shipping hub in Argentina, located in Rosario, Santa Fe Province, on the western bank of the Paraná River, around 550 kilometers upstream from the Atlantic Ocean.
The port is the largest of four on the Paraná that are located in the Greater Rosario region.  It is part of the Bi-Oceanic Corridor, which connects the Atlantic and Pacific Oceans through Buenos Aires, Rosario, Córdoba, the Cuyo region, and Valparaso, Chile; it serves the Santa Fe region directly, which produces a huge part of Argentine exports.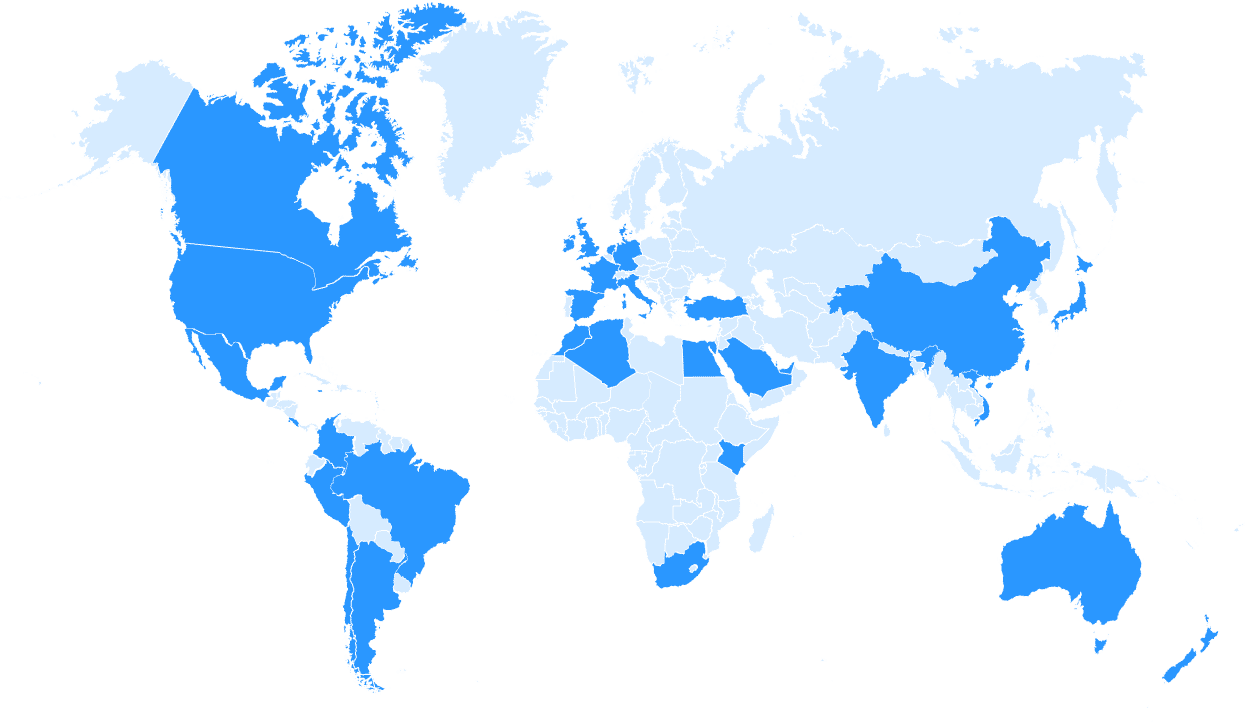 Shipping cargo: Argentina <–> UAE
In recent years, the trade relationship between Argentina and the United Arab Emirates has grown significantly. Bilateral trade between the two countries totaled $4.4 billion in 2016, up from $2.4 billion in 2015. The UAE is now Argentina's second–largest trading partner in the Middle East and North Africa region, behind only Turkey.
The two countries have strong economic ties, with the UAE investing $2.2 billion in Argentina since 2013. The UAE is also one of Argentina's top export destinations, with Argentine exports to the UAE totaling $2.3 billion in 2016.
The trade relationship between Argentina and the UAE is likely to continue to grow in the coming years, as the two countries continue to deepen their economic ties.
Rules & Regulations
Products that are banned from import into Argentina include: motor vehicles that do not comply with emissions standards, used tires, hazardous waste, asbestos, and products containing mercury. These products are banned in order to protect the environment and public health.
Motor vehicles that do not comply with emissions standards are a major source of air pollution. Used tires can release harmful chemicals into the environment. Hazardous waste can contain toxic chemicals that can contaminate soil and water. Asbestos is a known carcinogen. Products containing mercury can cause neurological damage.
| City From | City To | Port From | Port To | Price | Shipping Line | Container Code | Valid To | Container Type | Distance | Transit Time |
| --- | --- | --- | --- | --- | --- | --- | --- | --- | --- | --- |