Air Freight to USA
Find the Best Freight Quote
At DFreight, we provide a wide range of business air freight services for a variety of commodities, including foods, fruits, electronics,  cosmetics, and furniture; offering transparent, effective, and reliable door-to-door cargo to USA from the UAE and vice versa. You can conduct business without being concerned about the challenges of shipping from the UAE to USA using our all-in-one digital freight solutions.
Our digital freight forwarding platform provides real-time monitoring of shipments, ensuring that you have complete visibility and control over your cargo. We offer end-to-end services tailored to your unique requirements, making shipping to and from USA a hassle-free experience. We help you ship business cargo to various cities in USA, including New York, Los Angeles, Chicago, etc. in the easiest, fastest, and safest way possible.
You can rely on DFreight to assist you with all of your international cargo shipping to USA thanks to our FCL and LCL shipment air freight cargo services. With the help of our digital freight platform, you may submit your inquiry right away and receive the best competitive prices for shipping your cargo to USA.
Air Freight to USA Services
Air freight to USA services include express, standard, and deferred air cargo services. The urgency of your product delivery will most likely determine the air service you choose.
Air Express
If you choose Express service, your goods will be loaded onto an airplane and flown directly to their final destination. Express is the most expensive flight option.
Standard Service
If your commodities are being sent by Standard service, they will most likely stop at one or two terminals to change planes or be loaded or unloaded with other cargo. The Standard service is the most common air service.
Deferred Service
If your shipment is sent using Deferred air transportation, it will make many stops along the road before arriving at its final destination. Despite being less expensive than express air service, deferred air service is still more expensive than shipping LCL.
Major Cargo Airports in The USA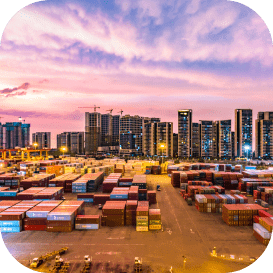 Memphis International Airport (MEM)
Memphis International is a cargo-only airport, dedicated to air freight to USA. While it isn't even in the top 50 for passenger traffic, it is the busiest cargo airport in the United States, and second only to Hong Kong's 4.9 million metric tons in the world. What is the source of the volume? This airport  processes over 180,000 packages per hour and generates over 400 flights per day.
The airport has four runways, is spread out across 3,900 acres, and has 1 million square feet of cargo space. It's conveniently placed near the Port of Memphis, which, owing to the Mississippi River, is the country's second-largest inland port.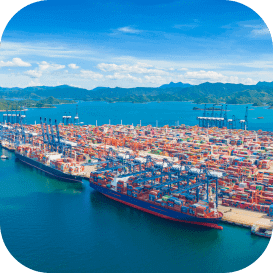 Anchorage International Airport (ANC)
The passenger traffic in ANC is significantly lower than in Memphis. However, with around 80% of Asian airfreight imports passing through Anchorage, it's no surprise that ANC is the world's fifth busiest cargo airport, offering air freight to USA services. Carriers benefit from advantageous US Department of Transportation cargo transfer restrictions, as well as being the nearest US city to North Asia (a quick 6 to 7-hour trip). The fact that planes may take off and land at any time is also beneficial. Because more than 80% of Alaska is inaccessible by road, most products headed for the state, whether arriving by air, land, or sea, are transported to ANC to be loaded aboard planes large and small.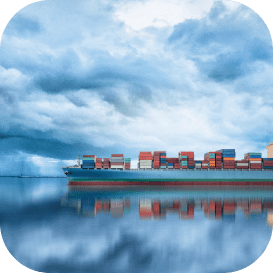 Louisville International Airport (SDF)
Louisville International Airport is a 5.2 million-square-foot facility capable of processing over 400,000 shipments per hour, largely for domestic destinations, is located in Louisville. The airport is close to three Class 1 railroads and two inland ports along the Ohio River, in addition to good highway infrastructure. Three runways are in this 1,500 acres airport, which is located in the heart of the city. Despite its small size compared to some of the other airports on this list, it is the world's seventh busiest cargo airport.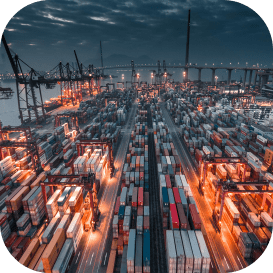 Los Angeles International Airport (LAX)
Because LAX serves the Greater Los Angeles area, the world's third largest urban economy (after Tokyo and New York, with a combined economy of $770 billion), it's no surprise that the airport is a significant worldwide gateway for cargo and passengers (it's the US's second busiest passenger airport, after Atlanta, GA). Furthermore, LAX is only 25 miles from the Port of Los Angeles, the busiest port in the United States. It is the world's 13th busiest freight airport. However, when combined with Ontario International Airport, 55 miles to the east, and San Diego International Airport, 125 miles to the south, LAX becomes the world's fourth busiest cargo airport; on this ranking, it is placed 2nd.
LAX is a 3,500-acre airport with four parallel runways. Carriers and 3PL providers have access to over 20 specialized cargo facilities with a total capacity of 2.1 million ft2. Around or near the airport, an additional 4 million ft2 of freight capacity is also available. The airport's closeness to the ports of Los Angeles and Long Beach, as well as its road and rail infrastructure, makes it an important part of a worldwide, multi-modal hub.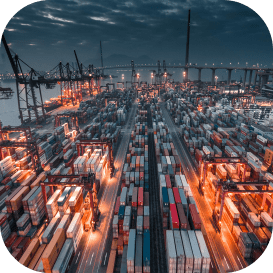 Miami International Airport (MIA)
MIA handles more Latin American freight than any other airport in the United States, accounting for 83 percent of all air imports and 79 percent of all US air exports to the area. It also handles more worldwide freight than any other airport in the United States, according to the airport.
MIA is a 3,300-acre airport with four runways and 3.4 million square feet of warehouse, office, and service space, including 445,000 square feet of refrigerated warehouses.
Top USA Exports and Imports
The top exports of United States are Refined Petroleum, Petroleum Gas, Crude Petroleum, Cars, and Integrated Circuits, exporting mostly to Canada, Mexico, China, Japan, and South Korea.
The top imports of United States are Cars, Crude Petroleum, Computers, Broadcasting Equipment, and Packaged Medicaments, importing mostly from China, Mexico, Canada, Germany, and Japan.
Pick up and delivery
Land transportation
Ocean freight transportation
Customs clearance
Documentation
Rules & Regulations
Rules and regulations of importing goods to the USA include obtaining an import license from the Department of Commerce, ensuring that goods meet all US standards and requirements, paying certain fees and taxes to the US government, and providing accurate and complete documentation of the goods. Failure to comply with these regulations can lead to fines and other penalties.
Market update 2023
According to OEC, in 2021, United States was the number 1 economy in the world in terms of GDP, the number 2 in total exports, the number 1 in total imports, the number 7 economy in terms of GDP per capita and the number 10 most complex economy according to the Economic Complexity Index (ECI) .
United States exports to United Arab Emirates was US$20.85 Billion during 2022, and United States imports from United Arab Emirates was US$7.31 Billion during 2022, according to the Trading Economic database.
The freight market between the United States and the UAE is expected to be more competitive and dynamic by 2023. The UAE's strategic location, access to the rest of the world, and investments in advanced technologies are expected to lead to increased efficiency, reliability, and cost savings in the freight and cargo transportation sector. This is expected to be beneficial for both American and international businesses, as they can use the UAE's transportation services to transport goods more efficiently and cost-effectively.