If you are searching for a cost- and time-effective shipping solution, Pallet shipping is the way to go! Businesses who need to move big volumes of goods might consider pallet shipping. It is not only an affordable choice, but it is also a very effective way to move goods. Shipping pallets are used to support and stabilize the cargo being transported. In the logistics and supply chain industry, they are quite important.
Dfreight is the best digital freight forwarder and is here to handle your pallet shipping needs by providing a hassle-free experience from start to finish. So you can focus on your business and leave the logistics to us. Read this blog post for more information on pallet shipping, how to choose and prepper them and the documents required for international pallet shipping.
Find the Best Freight Quote
What is a pallet?
A pallet is a flat transport structure that supports goods in a stable fashion while being lifted by a forklift, pallet jack, front loader, work saver, or other jacking device. A pallet is the structural foundation of a unit load which allows handling and storage efficiencies.
Based on the material, there are several types of pallets include: Wooden pallets, Presswood pallets, Plywood pallets, Metal pallets, Plastic pallets, and Corrugated board pallets.
Different types of pallets include: Double face pallets, Single wing pallets, Double wing pallets, Solid deck pallets, Flush pallets, Non-reversible pallets, and Reversible pallets.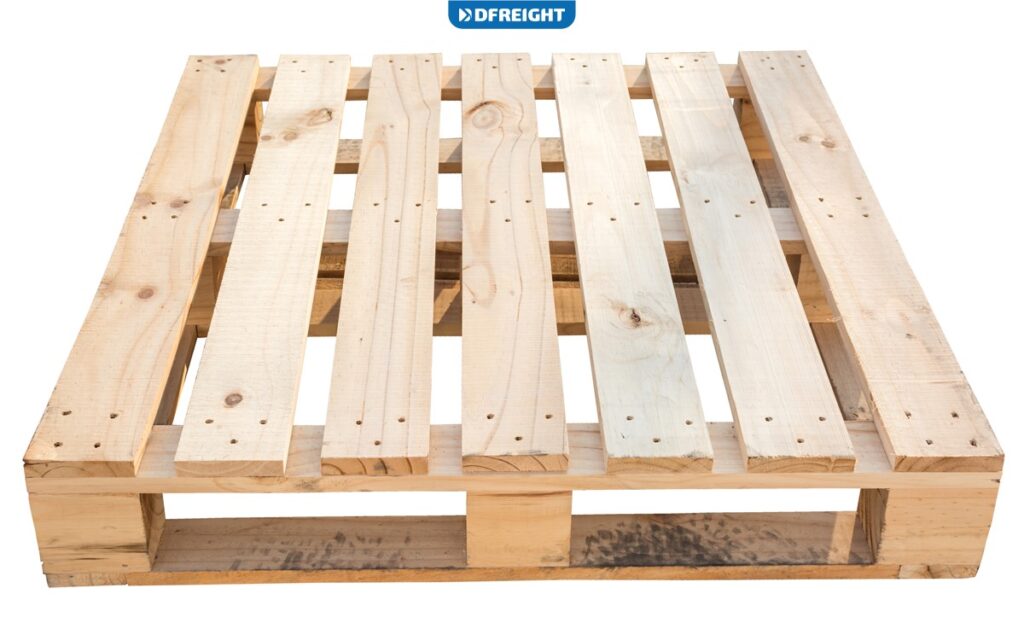 What is a pallet shipping?
If you want to ship multiple boxes, not just one, to another location, Although you can send them all separately, it will be less expensive if you stack the boxes on a pallet and ship them all together. In this manner, the packages will ship together and won't be split up anywhere during transit. This helps cargo packaging more efficiently.
Different ISO Pallets Sizes
International Standards Organization (ISO) pallet sizes are shown in the table below:
| | | |
| --- | --- | --- |
| Regions most used in | Dimensions in mm (W x L) | Dimensions in inches (W x L) |
| North America | 1016 x 1219 | 40 x 48 |
| Europe, Asia | 1000 x 2000 | 39.37 x 47.24 |
| Australia | 1165 x 1165 | 45.9 x 45.9 |
| North America, Europe, Asia | 1067 x 1067 | 42 x 42 |
| Asia | 1100 x 1100 | 43.3 x 43.3 |
| Europe | 800 x 1200 | 31.5 x 47.24 |
How to Choose the Right Pallet Size?
You should select a pallet size based on what you're shipping, where it's going, and how you want to load and unload your cargo.
After that, you should consider the size of your warehouse and the forklifts that are utilized for container loading and unloading.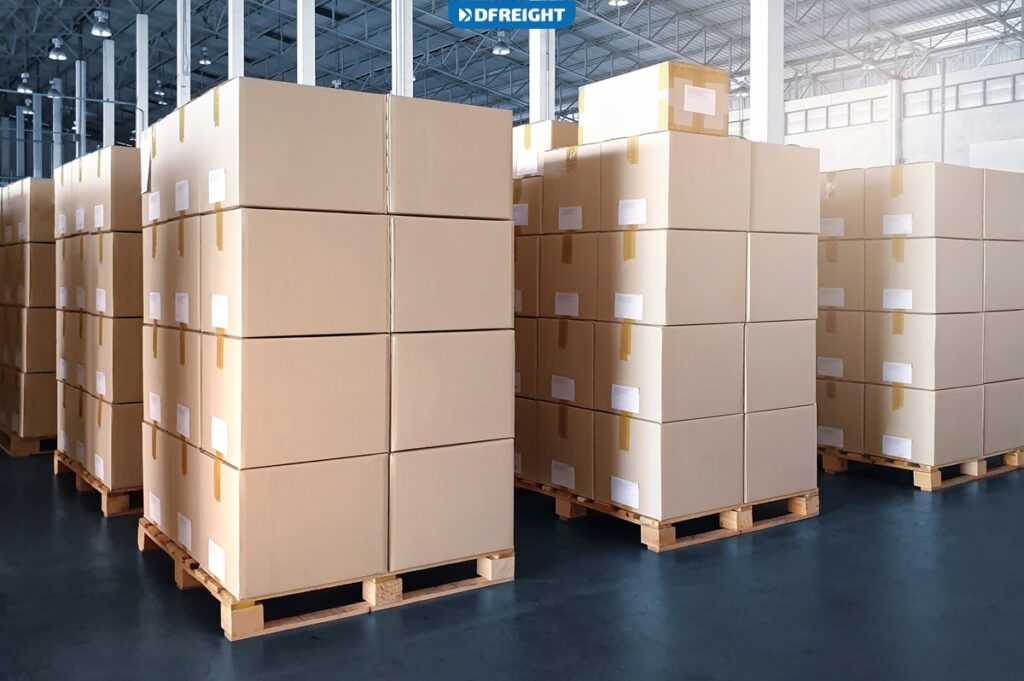 How to Prepare Your Pallet Shipping?
Here are some methods to focus while Preparing your pallet shipping, whether they will be shipped by air, ocean, or land:
1. Wrap a few times around the top level and through the inside of the pallet with premium shrink wrap. To increase the strength of the wrap, twist it. Ensure that there is space for the forklift. Stretch-wrap should not be cut; instead, have it ready for when you are through stacking. You may now start putting your boxes together.
2. To help spread the weight and secure loose boxes, use a flat cardboard slip sheet underneath the load and between the layers.
3. Place your boxes on the pallet in columns, with the heaviest ones at the bottom. You'll have the strongest stacking power after doing this. Avoid layer patterns that are irregular.
4. Even if it means taking out packages that will be sent with the following shipment, avoid building a pyramid. keep it flat at all times, to avoid top loads damaging the top layer.
5. Boxes shouldn't stick out past the edge of the pallet since they run the risk of being crushed.
6. Box corners should not be positioned in the spaces between pallet board gaps. This could result in an unsteady equilibrium and increase the chance of forklift damage or immobility.
7. Use cardboard corner-boards and a final cardboard slip sheet to strengthen the corners of the entire cargo.
8. Use the stretch-wrap you set aside to wrap the package, rotating it at least five times in each direction to keep the parts from coming loose.
9. Use your own judgment to determine whether your shipment needs further stability or protection, and if so, tighten any bands or nylon straps into the center of the pallet to keep it all down.
10. Ensure that the cargo has the appropriate labels on it and contains all required paperwork.
A pallet is now prepared for shipping. It is crucial to instruct your packing crew so that you may ensure the safest, most manageable transit for your freight consignment. You may cut expenses and foresee the most effective ways to get your goods into the hands of customers by setting up a fluid system of packing.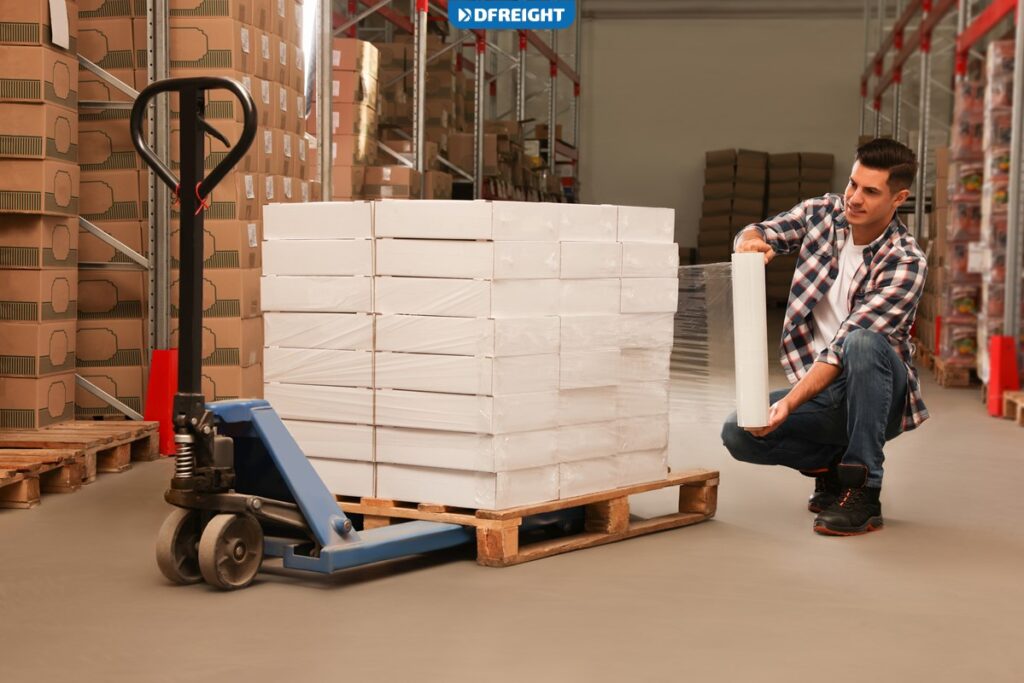 Documents Required for International Pallet Shipping
There are a few documents that are required for international pallet shipping. A commercial invoice, a packing list, a bill of lading or air waybill, a certificate of origin (COO), a material safety data sheet (MSDS), a shipper's letter of instruction (SLI), a booking confirmation, and a letter of credit are all needed in order to pallet shipping.
Conclusion
If you're looking for a digital freight forwarder that can help you with pallet shipping, DFreight is the company for you. We provide an online platform that helps businesses manage their shipping needs. Contact us today to learn more about our services and how we can help your business save time and money on pallet shipping.
How much does it cost to ship a pallet?
The cost of pallet shipping will vary depending on the size of the pallet and the weight of the shipment. You will also need to factor in the distance that the pallet will be shipped. The shipping company will be able to provide you with a more accurate quote once you have provided them with this information.
What are the benefits of pallet shipping?
There are many benefits to pallet shipping.
First, it is a relatively inexpensive way to ship goods.
Additionally, pallet shipping is a very versatile shipping method and it can be used to ship a variety of different types of goods.
Finally, pallet shipping is a safe and reliable shipping method.
How do I choose the right pallet for my shipment?
There are a few things that you will need to consider when choosing a pallet for your shipment. First, you will need to determine the size and weight of your shipment. You will also need to consider the type of goods that you are shipping and the destination of your shipment. Based on this information, you will be able to choose the right pallet for your needs.