Port to port shipping is the most economical way to ship cargo overseas. It is a safe and efficient way to transport items, and it can be done relatively cheaply. There are a few things to keep in mind when using port to port shipping,
If you're looking for a digital freight forwarder that can handle port to port shipping, DFreight is a great option. We offer a wide range of services to meet your shipping needs, including port to port shipping, container tracking, and more. we're committed to providing the best possible service along the way. For more information on port to port shipping, read the blog post below.
What Is a Seaport?
A seaport is a place where ships can dock and load or unload passengers or cargo. Seaports are frequently utilized to carry different commodities across international borders and are typically located around major cities.
There are five different types of ports for ships, including sea ports, inland ports, warm water ports, dry ports, and fishing ports.
What is Port to Port Shipping?
Port to port shipping (PTP) is a method of international cargo freight shipping where the shipper is responsible for getting the goods to the port, and the consignee is responsible for getting the goods from the port. There is no transport chain in a normal port to port shipping. Because there is just one so-called main run in port to port shipping, it is at least not taken into account while making reservations. A port is often where this begins and finishes.
The Benefits of Port to Port Shipping
Port to port cargo shipping has many advantages. The ability to carry freight from one location to another with great efficiency is perhaps its most obvious advantage. PTP shipping offers a variety of additional benefits.
PTP shipping is very cost effective. Because shipping companies can combine shipments and benefit from economies of scale. That permits them to pass the savings along to their clients.
PTP shipping is very flexible. Because shipping businesses may plan their ships' arrivals at various ports at various times, they can work around the timetables of their clients.
PTP shipping is also very safe. This is because ships used for port to port shipping are frequently enormous and well-equipped, and they also have a lot of expertise handling freight, which makes mistakes less likely.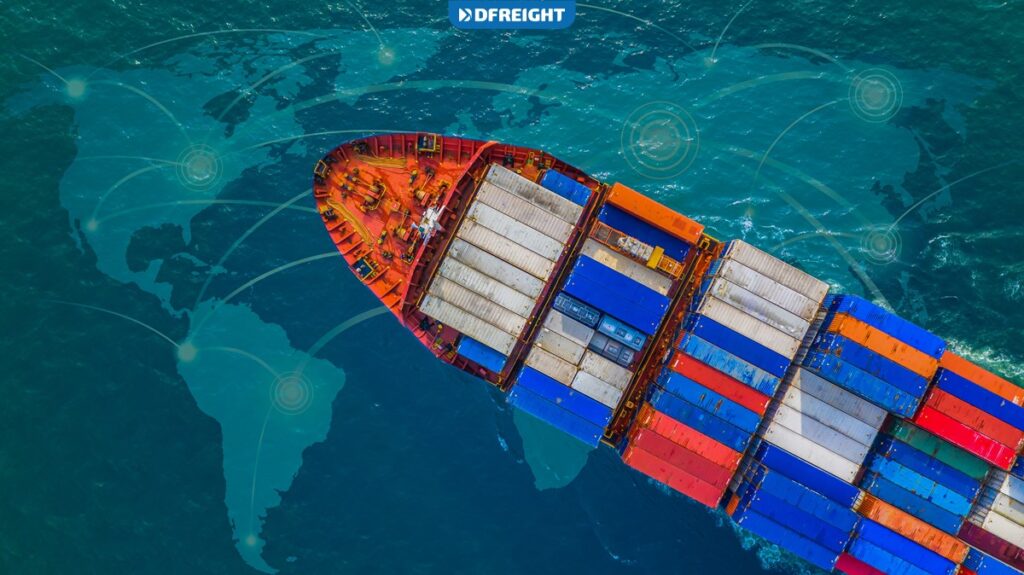 The Process of Port to Port Shipping
Port to port shipping is a rather easy operation. The shipping company will deliver the container to the port of loading once the documentation is in order. The container will then be transported to the port of discharge after being put onto the ship. The container will be unloaded and delivered to the consignee once it has reached the port of discharge.
Port to Port Cargo Shipping in 3 Steps
Services at Origin: A wide range of PTP shipping services are provided to meet customers' needs, including origin booking confirmation, warehouse arrival notification and port arrival notification.
Freight Services: Freight services are an important part of the shipping industry, and they play a vital role in the transportation of goods from one port to another. Freight services provide a way for shippers to move their goods quickly and efficiently, and they offer a variety of options in port to port shipping, including submission of export documents, notification of cargo onboard vessel, and freight transport cargo to port of entry at destination country.
Destination Services: Destination services are a set of services offered by a shipping company to its customers at the destination port. These services may include unloading the cargo, storage, and delivery to the consignee. Some destination services may also include cargo arrival notification. Finally, the company will refer customers to a local contact for guidance on customs processing and final destination arrangements.
Saving Money by PTP
PTP is something you might want to think about if you want to reduce your shipping rates. Without having to deal with the trouble and expense of delivering your goods to an inland location, you may ship your goods from one port to another using this method of shipping. For individuals shipping bulky or heavy things, this can be a fantastic alternative since it can greatly save shipping costs.
Port to Port Incoterms
Port to port Incoterms are a set of international trade terms that are used to clearly define the roles and responsibilities of buyers and sellers in a transaction. These terms are used to determine who is responsible for transportation costs, insurance, and other risks associated with the shipment of goods. The following Incoterms can be applied to a port to port shipping under certain conditions:
For port to port cargo shipping, the Incoterm CFR is recommended because it only covers the portion of the journey up to the port of arrival. Up to delivery to a predetermined location, the other Incoterms indicated are still in effect.
Conclusion
Look no further than DFreight if you need a digital freight forwarder who can handle port to port shipping. Our user-friendly online platform makes it simple to get online shipping quotes, book shipments, and track your shipment. Additionally, our team of professionals is available at all times to support and counsel. Contact us today to learn more.
What are the disadvantages of port to port shipping?
Port to port shipping also has some disadvantages, including the fact that it can take a long time for the shipment to reach its destination.
 How can I make sure my goods are shipped safely using port to port shipping?
When you use port to port shipping, you should choose a reputable and experienced shipping company. You should also carefully pack your goods to ensure that they are protected during the shipping process.
What are the port-to-port shipping options available for shipping goods from the USA to Dubai?
The port to port shipping options available for shipping from USA to Dubai includes ocean freight, air freight, and trucking. Depending on the size and urgency of the shipment, we can provide a tailored solution that best meets the needs of the customer.