In today's fast-moving world, devices are essential in our lives. People want more cool digital gadgets, like phones, gaming systems, and smart home items. Knowing how to ship gadgets safely and well is important if you want to send a gift or grow your business. This guide will explain the key steps for shipping digital gadgets and give tips on bringing digital gadgets to Dubai.
Shipping Digital Gadgets: A Step-by-Step Guide
1. Choose the Right Packaging
Proper packaging is the foundation of a successful shipment. Select sturdy boxes, bubble wrap, and foam inserts to protect your gadgets during transit. Remember, it's better to be safe than sorry.
Here you can read about proper packaging:
2. Insure Your Shipment
Gadgets can be valuable, both sentimentally and monetarily. To safeguard your investment, consider insuring your shipment. Many courier services offer insurance options for added peace of mind.
Learn everything about Cargo Insurance:
3. Label Clearly
Ensure your package is labeled with the correct address and contact information. This will help prevent delivery delays or losses. Don't forget to label items as fragile if necessary.
4. Choose the Right Shipping Method
Select a shipping method that suits your budget and timeframe. Standard postal services, express couriers, and freight forwarding services are all viable options, depending on your needs.
5. Customs Documentation
For international shipments, you'll need to complete the necessary customs documentation. Ensure you provide accurate descriptions and values for your gadgets to avoid any issues with customs.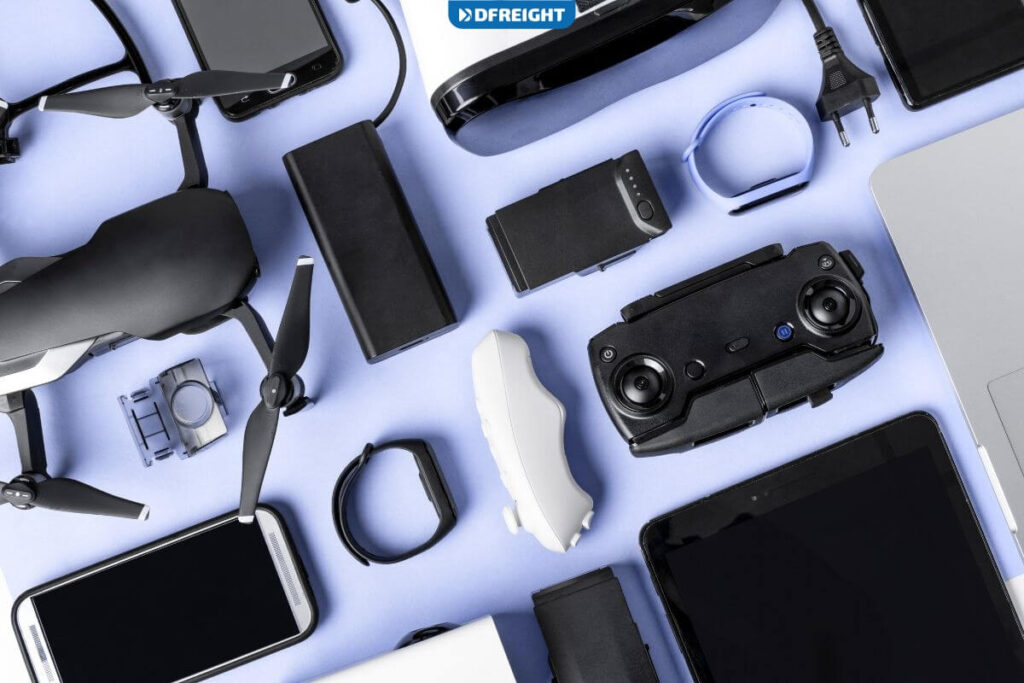 6. Track Your Shipment
Keep tabs on your shipment's progress by using the provided tracking number. This will help you stay informed and ensure a smooth delivery.
Importing Digital Gadgets to Dubai
Dubai is a global hub for technology enthusiasts, making it an attractive market for those who import digital gadgets. We recommend partnering with a trusted freight forwarding service like DFreight to make this process smoother. They specialize in handling shipments to and from Dubai and can assist you with everything from customs clearance to doorstep delivery.
Contact DFreight for Hassle-Free Imports
If you're looking to import digital gadgets to Dubai without the hassle, DFreight is your ideal partner. With their expertise in the field and a dedication to customer satisfaction, they'll ensure your gadgets reach their destination safely and swiftly. Contact them today for a personalized shipping solution.
Conclusion
Shipping gadgets can be a breeze with the right knowledge and preparation. Whether sending a gift to a loved one or expanding your business internationally, follow these steps to ensure a successful shipment. Remember, DFreight is your go-to freight forwarder for importing digital gadgets to Dubai.
Find Your Rate
Can I ship gadgets internationally using standard postal services?
Yes, you can use standard postal services for international shipping, but opting for express couriers or freight forwarding services is often recommended for added security and quicker delivery.
How can I estimate the shipping cost for my gadgets?
You can estimate the shipping cost by considering package dimensions, weight, destination, and shipping method. Most courier services provide online calculators to help you get an estimate.
What customs documents do I need for international shipments of gadgets?
You typically need a commercial invoice, a packing list, and a customs declaration form for international shipments. Be sure to provide accurate descriptions and values for your gadgets.
Is it safe to import gadgets to Dubai?
Importing gadgets to Dubai is safe, but adhering to the country's customs regulations and working with a reputable freight forwarder to ensure a smooth and compliant process is essential.
How can I track my shipment's progress?
Most courier services and freight forwarders provide a tracking number that you can use to monitor your shipment's progress on their website or through a mobile app.