You are living in the UAE and finally bought your ideal car, but you are now moving to another country and looking for ways to ship cars from UAE. It's difficult to say goodbye to your beloved car. So you're probably considering bringing your car, and you should! The procedure is straightforward. Here, we highlight all you need to know about shipping cars from UAE.
Dubai has grown to become the Middle East's most important business center. As a result, many individuals go to the UAE to work and live. The United Arab Emirates now boasts one of the largest industries for rare exotic and classic automobiles. When residents of the UAE relocate to another country, they frequently desire to ship cars from UAE with them.
The task may seem overwhelming if you've never imported a car from the United Arab Emirates. It is, however, possible with the assistance of freight forwarding and shipping companies. We specialize in air, sea, and land freight forwarding at DFreight. There are several documents needed to ship cars from UAE. Similarly, you can choose foreign car shipping methods based on your unique needs and requirements. Please read on for a thorough explanation of the many options for shipping your automobile from the UAE.
Different Types of Car Shipping Methods to Ship Cars from UAE
Generally, there are three basic transportation methods for moving a car from one country to another: air, sea, and land. Unfortunately, due to geographical constraints, land transportation is not cost-effective for shipping a car from the UAE. However, we will use different car shipping methods, including air, sea, and land freight, to transport an automobile from the UAE.
Ship Cars from UAE – Air Freight
If you're in a hurry and need your car immediately, air shipping will significantly decrease the transit time. Air freight is generally the most costly way to ship cars from UAE because it is the fastest international car shipping method. When it comes to high-value or sensitive cars, however, it is a preferred alternative since they may be delivered only in single-vehicle flight crates in aircraft cargo decks rather than multi-vehicle containers or ships. Car shipping firms like DFreight provide extensive air freight services, such as door-to-door pickup and delivery by precise drivers and technicians and full cargo insurance coverage.
Ship Cars from UAE – Sea Freight
On the other hand, car shipping by sea is a popular choice among those wishing to ship a car from the UAE to Europe because it is typically less expensive than air freight cargo. There are several options for car sea shipping to Dubai, depending on the type of vehicle being transported and, of course, your particular standards.
Ro-Ro, which stands for roll-on and roll-off shipping, is one of the most popular car sea shipping methods. Vehicles that are transported internationally using this method are transported on a specialized vessel known as a Ro-Ro ship. Expert drivers drive Multiple automobiles directly onto the ship, and then secure them on deck or below.
International Ro-Ro car shipping is often regarded as the most cost-effective means of exporting a car from the UAE to Europe since it is a highly specialized approach. This is because Ro-Ro shipping allows automobiles to be rolled straight onto the ship, saving the shipper a significant amount of time. However, it has limitations: It can only ship cars in proper driving conditions. Ro-Ro ships operate on a limited number of routes.
Container shipping is another option for moving a car across countries by ship. Container shipping, instead of Ro-Ro ocean freight, puts cars in a container for shipment. This lets the customer pick whether or not the car will be transported individually, in shared or exclusive containers. The latter is generally the more expensive option.
Companies specializing in international shipping, such as DFreight, provide meticulous services such as door-to-door transfers by accurate drivers, full coverage cargo insurance, and complete monitoring of the entire process, from clearance to door delivery, similar to air shipments.
Ship Cars from UAE – Land Freight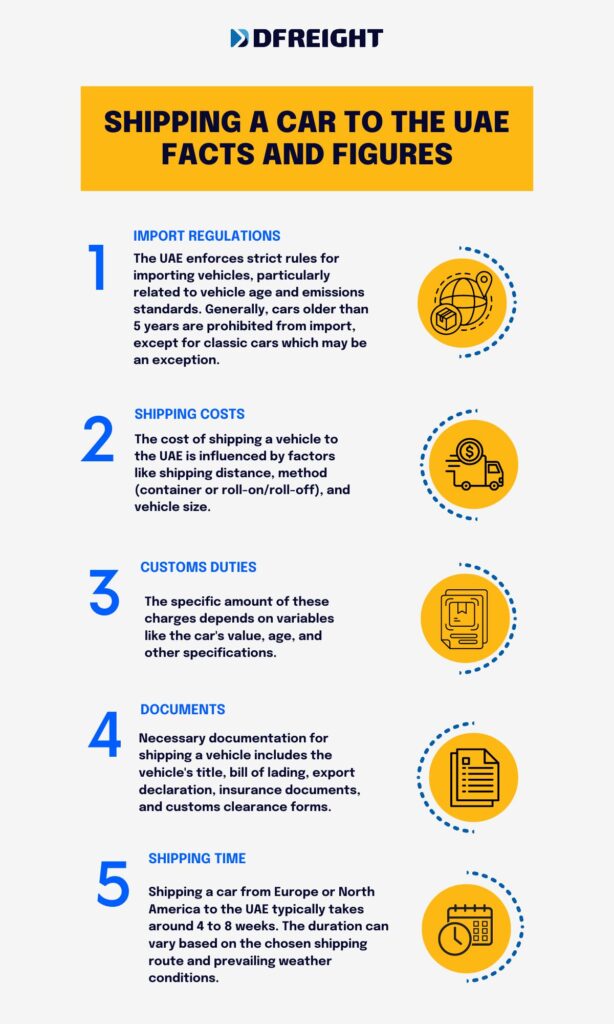 Transporting cars through the land depends on your geographical location. You might be permitted to drive your recently bought car in different countries. If you decide to do this, ensure you have all the proper documents for each border crossing before leaving. Sometimes, you can also have your car sent via standard semi-truck freight.
Regardless of how you plan to ship your car from UAE, except if you want to drive it back yourself, you must notify the Roads and Transport Authority (RTA) of the method and business you'll use to transport it.
Remember that if you are driving your car out of the UAE, you must do it within two weeks. Also, regardless of how you ship your car, obtain insurance to protect yourself in the worst-case scenario.
What Documents Are Needed for Car Shipping from UAE?
Car shipping companies, such as DFreight, are responsible for more than shipping your vehicles internationally. We manage all phases of exporting a car internationally, including documents needed, comprehensive customs clearance support, and the issue of required export/import documents such as ATA Carnets and CPDs (Carnet De Passages). Identification documents, a receipt showing the sale of the automobile, a valid vehicle ownership title, and a UAE residency visa are all required by the local authorities to transport a vehicle from the UAE to Europe by air or water (except for people with nationalities from any of the AGCC countries).
What Are the Popular Ports to Ship Cars from UAE?
How to Ship Cars to and from the UAE
Shipping cars to and from the UAE can seem complex, but it can be a smooth process with the right steps. Here's a simple guide on shipping cars to and from the UAE.
Choose a Shipping Method: Decide whether you want container or roll-on/roll-off (RoRo) shipping. Container shipping offers more protection, while RoRo is quicker and often more affordable.
Select a Shipping Company: Research a reputable shipping company specializing in car transportation. Look for reviews, experience, and track record.
Prepare Your Car: Thoroughly clean your car, inside and out, to comply with customs regulations. Remove personal belongings and make a list of any existing damages for reference.
Gather Documents: Collect necessary documents such as your car's registration, proof of ownership, and passport. Check the specific requirements of your destination country.
Get Insurance: Consider purchasing insurance to cover any potential damage during shipping. Some shipping companies offer insurance, or you can explore third-party options.
Check Import Regulations: Research and understand the import regulations and taxes of the destination country. Some countries have specific rules and fees for imported vehicles.
Customs Clearance: Work with your shipping company to complete customs paperwork accurately. This includes declaring the value of the car and paying any required duties.
Choose Delivery Options: Decide whether to pick up the car from the port or deliver it to your desired location. Additional charges may apply for door-to-door delivery.
Track Your Shipment: Many shipping companies like DFreight offer tracking services. Stay informed about the progress of your shipment and any potential delays.
Receive Your Car: Inspect it for any damage once your car arrives. Use the list you prepared earlier to compare with its condition post-shipping.
Pay Applicable Fees: Clear any outstanding fees to receive your car, such as customs duties, handling charges, and storage fees.
Register Your Car: Follow the steps to register your car in the destination country. This might include emissions and safety inspections.
In conclusion, shipping cars to and from the UAE involves several straightforward steps. Key aspects include choosing a shipping method, selecting a reliable shipping company, preparing your car, gathering documents, and understanding regulations. With proper planning and adherence to the process, shipping your car can be a hassle-free experience.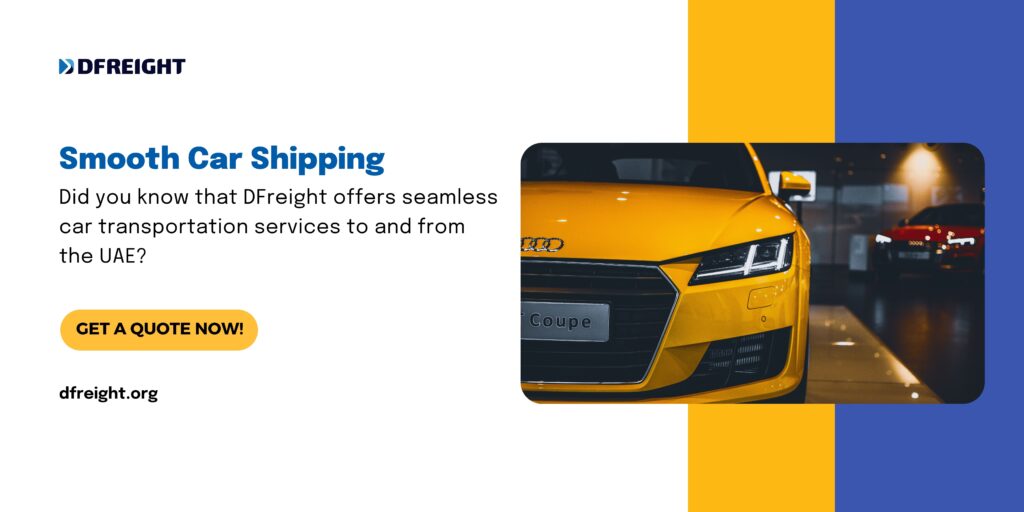 Ship your car to/from the UAE hassle-free!
If you plan to ship cars from UAE by air or ocean, be financially and logistically prepared for hassle-free car shipping to other countries. If you want to ship your car from the UAE to anywhere else in the world, don't forget that DFreight is always ready to help.
How do I ship my car?
The best way to ship your car is to use a professional shipping company. This will ensure that your car is shipped safely and securely.
How much will it cost to ship my car?
The cost of shipping your car will depend on the size of the car, the distance it needs to be shipped, and the shipping method you choose.
How do I prepare my car for shipping?
You must prepare your car for shipping by cleaning it and removing all personal items.
What are the different shipping options available?
Several shipping options include container, roll-on/roll-off, and air shipping.
What are the regulations for importing a car into the UAE?
To import a car into the UAE, you must obtain import permits, adhere to emission standards, and pay customs duties. The car must also pass a technical inspection and be registered in the UAE.
Can I bring any type of car into the UAE?
While you can import various types of cars into the UAE, they must meet the country's regulations and standards. Luxury and high-performance vehicles may have different import procedures and duties than standard vehicles.
What documents are needed for exporting a car from the UAE?
To export a car from the UAE, you typically need documents such as the vehicle's registration, export permit, customs declaration, and a no-objection certificate (NOC) from any financing entity, if applicable. These documents are necessary to clear the car through customs.
Is it possible to temporarily import a car into the UAE?
Yes, you can temporarily import a car into the UAE for a limited period, usually for tourists or short-term residents. Temporary import permits have specific validity periods and require adherence to customs regulations. Extended use may lead to fines or penalties.