Today, the international shipping industry is more popular than ever, especially after the pandemic in 2021. As a result, shipping companies in UAE and other countries must stay up in order to compete. Businesses in the UAE have the potential to benefit from this situation as shipping becomes more popular. If you're living in Dubai, Abu Dhabi, Sharjah, or other cities of the UAE and need to send significant goods back to your home country, you should know which shipping companies can help you do so. Below is a list of shipping agents in Dubai that offer the most diverse and client-friendly services for UAE imports and exports.
We hope this blog post will help you find the best shipping company in UAE to fulfill your global freight needs.
Find Your Rate
Top 10 Shipping Companies in UAE in 2021
Individuals or businesses in Dubai can hire these shipping companies to move goods across the UAE and internationally.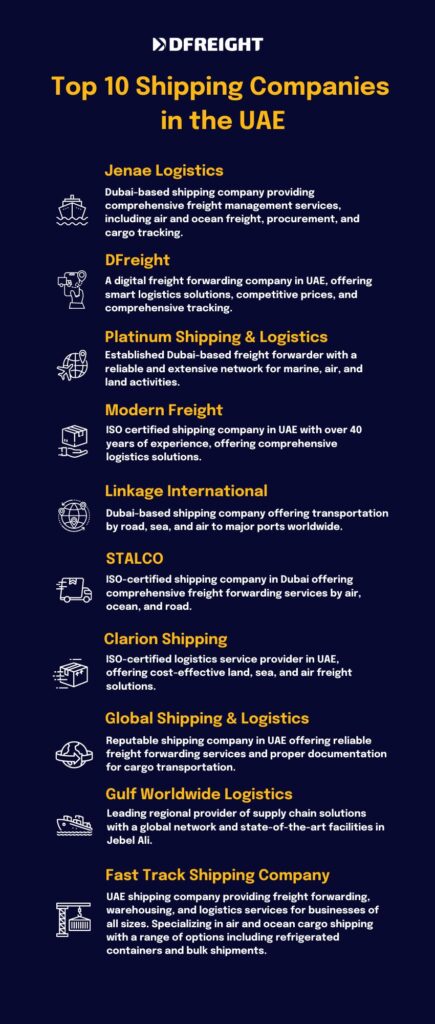 Jenae Logistics
Jenae Logistics, one of Dubai's shipping companies in UAE, offers an extensive variety of basic freight management services. Air freight consolidation, ocean freight for full-container (FCL) or less-than-full container load (LCL) services, procurement, and more.
The company's services begin with a thorough knowledge of each client's supply chain needs. Sea Freight shipments, for example, are handled according to the best timing, pricing, and space allocation for the client's needs. Additional benefits include cargo track and tracing through online shipment monitoring platforms.
DFreight
DFreight, another member of the list of top shipping companies in UAE, is a digital freight forwarding company headquartered in UAE. DFreight uses cutting-edge technologies, state-of-the-art equipment, and a team full of professionals to provide its valued customers with the smartest logistics solutions. DFreight has gathered more than 70 professionals in two main offices in the UAE and Armenia. DFreight is also partnered with some of the most reliable and recognized shipping lines in Dubai to ensure that customers' business cargo is delivered to the destination on time and securely.
DFreight is committed to providing an excellent customer experience and offering competitive prices for its services. Additionally, it provides comprehensive shipment tracking and real-time updates on the status of deliveries.
DFreight's vision is to develop the most advanced freight forwarding platform so that its customers can manage their whole supply chain, including shipments, cargo, and freight. DFreight provides shipping services through the air, ocean, and land. Shipping experts at DFreight are fully aware of customers' needs in their supply chain and try their best to respond to them. In addition to shipping services, DFreight also helps its clients with export and import customs clearance. According to a recent report on Twitter by DFreight, Jebel Ali Port in UAE is ranked 12th among the top seaports around the world; below, you can find the tweet.
Platinum Shipping & Logistics (PSL)
PSL is the third member of the list of top shipping companies in UAE. This major Dubai-based freight forwarder has a strong presence in the UAE logistics market, having been founded in 1994. Because all of their marine, air, and land activities are networked with online facilities at UAE Ports & Customs, their service is also reliable, as seen by its excellent portfolio of customers. Overall, it is deserving of a place among Dubai's leading shipping and freight forwarding companies.
Modern Freight
Our list of shipping companies in UAE also includes the Modern Freight Company, an ISO Certified shipping company with over 40 years of experience.
The organization has shown to be a useful platform for commercial clients, covering ocean, air, and road freight. Furthermore, a remarkable digital platform covers services like transportation management, warehouse management, and other logistical requirements for cargo safety. In general, the Modern Freight Company is one of Dubai's major freight forwarding firms.
Linkage International
Next on our list of shipping businesses in Dubai is Linkage International. It was founded in 1983 and provides services to all major ports worldwide. The company transports goods by road, sea, and air from the Middle East, the Far East, Africa, and Europe.
The firm works with reputable sea and air courier companies to offer low-cost services to its customers. Its freight forwarding service is particularly noteworthy, as it allows them to act on behalf of clients in pricing negotiations with carriers and the processing of complicated paperwork.
STALCO
STALCO has been operating since 1974 and is an ISO-certified shipping company in Dubai with a well-established network of worldwide agencies. The company's freight forwarding services include air, ocean, and road freight.
Delivery of perishable or dangerous commodities, large cargo, air charters, insurance, and consolidation are all examples of air freight forwarding services of this company. On the other hand, Ocean freight services include LCL, FCL, cross-trade, BB (Break Bulk), groupage, and more. STALCO also provides clearing services. End-to-end documentation, truck insurance, customs clearance, and other associated services are all included.
Clarion Shipping
Clarion Shipping is the next company on our list of shipping companies in UAE. The logistics service provider, founded in 1996, is a major NVOCC service that offers companies cost-effective ways to deliver products.
Clarion, an ISO-certified corporation, provides specialized land, sea, and air freight services. Regarding air freight, the organization offers Express Air Service, Perishable Goods, and Valuable Cargo Transport. They have branches in 11 different countries.
Global Shipping & Logistics
Global Shipping and Logistics is undoubtedly one of the most reputable shipping companies in UAE. In 1975, the firm began its operations. It has now grown to become a major business freight transportation supplier.
For organizations searching for dependable freight forwarding services for cargo delivery, Global Shipping & Logistics is a good partner. The service guarantees that all documentation is ready for inspection by relevant institutions such as product registration, health authorities, etc.
Fast Track Shipping Company
Fast Track Shipping is another well-known shipping company in the UAE that provides freight forwarding, warehousing, and logistics services. The services can meet the delivery needs of small, medium, and large businesses thanks to a competent workforce and a network of linked offices.
The company specializes in air and ocean cargo shipping. Refrigerated containers for perishable items, insurance, bulk shipments of dry goods or liquids, less-than-container loads, and international shipments are all available with the sea freight services of this company.
Gulf Worldwide Logistics
The last member in our list of shipping companies in UAE is Gulf Worldwide Logistics; It is a major regional supplier of world-class supply chain solutions with a worldwide reach thanks to its exclusive strategic partnership network that spans more than 30 countries.
The company now runs 40,000 square meters of cutting-edge facilities in the Jebel Ali North and South Districts. GWL provides customized logistic solutions as well as access to the region's main freight hub.
The Final Word
On this page, you can find information on the leading shipping companies in UAE. That should make it easier for you to contact them, to find the address of these reputable freight companies in Dubai, check out aiwa.ae and trackingdocket.com for further information. You can go to each of the company's websites individually. This post will assist you in determining which option is best for you. We hope this blog helps you find the perfect one. Check out our blogs page to find more shipping-related blogs.
You can find more about the UAE and MENASA trade relationship, shipping auto parts and clothes to the UAE, in other blog posts, which you can find on our blog page.
How many sea shipping ports are there in Dubai? 
Dubai is one of the world's most important and dynamic economic centers. Jebel Ali Port, Mina Rashid Port Dubai, and Al Hamriya Port Dubai are the three major maritime ports in Dubai. 

What kind of shipping services does DFreight company offer to/from Dubai? 
DFreight provides shipping services through air, ocean, and land. DFreight offers FCL & LCL ocean freight and expedited and deferred air services.

Does DFreight offer customs clearance services? 
Yes, DFreight offers reliable customs clearance services. Through our platform, you can request customs clearance services and manage all the documents online.

How can I find shipping companies in Sharjah?
DFreight Shipping is a digital freight forwarder established in the UAE. It covers all cities in the UAE, including Sharjah, Abu Dhabi, Dubai, and so on.