In today's global economy, freight forwarders play an essential role in facilitating the movement of goods and materials worldwide. Without freight forwarders, the flow of goods would grind to a halt, disrupting supply chains and causing widespread chaos. As experts in logistics and transportation, they can provide businesses with the necessary support to ensure that their products reach their destination safely and on time. Keep reading the post if you are curious to know more about a freight forwarder's diverse roles and responsibilities. We have crafted a comprehensive guide to enlighten you with everything you need to know about the freight forwarding career.
Freight Forwarder: A Comprehensive Definition
In simple words, a freight forwarder is an individual or a company that facilitates the shipment of goods and materials from one location to another. Freight forwarders typically use a variety of transportation modes to ship goods, including trucks, trains, vessels, and airplanes. They also manage the paperwork and other logistical details associated with the shipping process. Furthermore, freight forwarders typically offer various value-added services, such as warehousing, packaging, and cargo insurance, to their clients, who are primarily importers and exporters.
Types of Freight Forwarders
Freight forwarders can be categorized according to their services and title, which entitles them to accreditation in specific Official Registers, which is required to provide some services. The following operators and agencies can be identified as freight forwarders, in order from the highest to the lowest level of services:
Non-Vessel Operating Common Carriers (NVOCC)
Multimodal Transport Operators (MTO)
Cargo Terminal's Agents
Air Freight or Air Waybill Agents
Road Haulage Brokers
Key Roles and Responsibilities of Freight Forwarders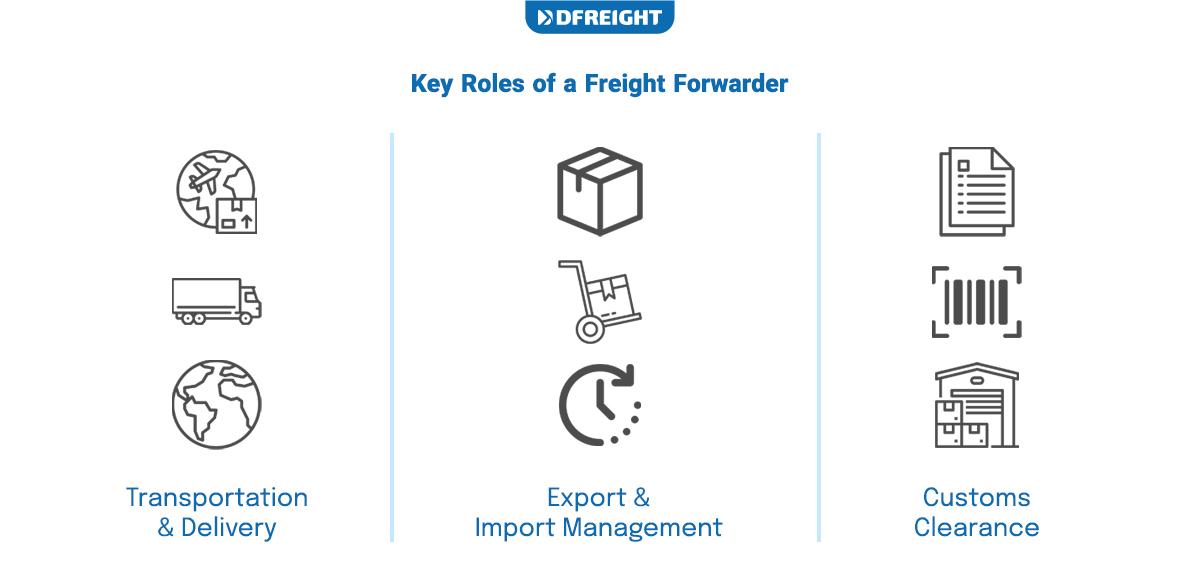 Depending on the type and scale of the employer (owner of the goods), freight forwarders' responsibilities might vary. Following are the leading roles a freight forwarder can take for a company:
1. Offering Expert Advice to the Client
The forwarding agency offers clients practical advice and assistance to transport products from the seller to the buyer more effectively. Similarly, the potential difficulties with shipping freight are disclosed to the client beforehand. Freight forwarders also bargain with transport brokers to lower the cost of shipping the carriage. In short, the freight forwarder's understanding of shipping rules and regulations, banking procedures, and transportation costs can facilitate the shipping process.
2. Booking Freight Room on the Means of Transportation
Booking cargo space on aircraft, trains, ships, or other modes of transportation is one of a freight forwarder's primary responsibilities. Many freight forwarders have specialized knowledge and broad networks to help their client's import or export from different countries. Most typical freight forwarding agents offer shipment alternatives such as containerization, air freight, and road haulage.
3. Packing, Storage, & Distribution
A freight forwarder's key role is to arrange for packing, general warehousing, and distribution before shipment or after the goods arrive. The forwarder may store the goods while awaiting transit or distribution during the export or import process. Sometimes a shipping contract can include warehousing services before and after freight delivery while awaiting customs clearance.
4. Offering Insurance Services
Unlike cargo insurance underwriters, forwarders act as agents for their clients to acquire cargo insurance in exchange for a service fee. Some of the greatest freight forwarders advise their customers to get insurance for their goods for free. However, selling insurance is prohibited in some countries, including most EU member states.
5. Conducting Documentation & Customs Clearance
A freight forwarder's primary responsibility is to handle all export/import paperwork and transportation requirements. Following the terms of the sales agreement and legal and customs regulations, the freight forwarder creates and submits the necessary documentation for the export and import of products.
Responsibilities of a Freight Forwarder Under International Conventions
The Federal Maritime Commission (FMC) regulates the freight forwarder industry. A freight forwarder's responsibilities under international conventions are typically to provide transportation and logistics services to their clients. This may include arranging for the transport of goods by land, sea, or air and providing storage and warehousing services.
The freight forwarder may also be responsible for customs clearance and other documentation required for the shipment of goods. In short, according to international conventions, freight forwarders are expected to take the following responsibilities:
Providing CMR protection
Offering reliable time estimates for the transportation
Ensuring the legality of the permissions and paperwork throughout the transportation process
Notifying the parties involved before shipping
Adherence to ADR dangerous goods shipping conventions
Freight Forwarder vs. Shipping Line: Similarities & Differences
The two business types share certain similarities. If you speak with a freight forwarder directly, they will be able to use the same shipping lines that are offered. Both will transfer your items long distances, and both can occasionally sign off on responsibility for your shipments. However, many customers prefer to work with a freight forwarder company.
The main distinction between the two is that a freight forwarder will assume responsibility for transportation to and from ports. However, a shipping line service only involves moving the goods from port to port over water, not to their final destination. Besides, freight forwarders frequently take care of the customs procedures and, for an extra charge, may handle this challenging aspect of shipping on your behalf. In a nutshell, freight forwarders can manage the entire shipping process and provide "door-to-door" delivery for their customers.
Since shipping companies only use one mode of transportation to move your goods from point "A" to point "B," it could be simpler to track and trace your items. A freight forwarder might provide this, but it might be a little more challenging because moving goods can involve trucking, sea, and air travel.
Additionally, because products are inspected before and after transportation, shipping lines make it simpler to determine whether a particular item or item has been damaged while under their care. However, freight forwarders may only transfer the items to the next mode of transportation without inspection.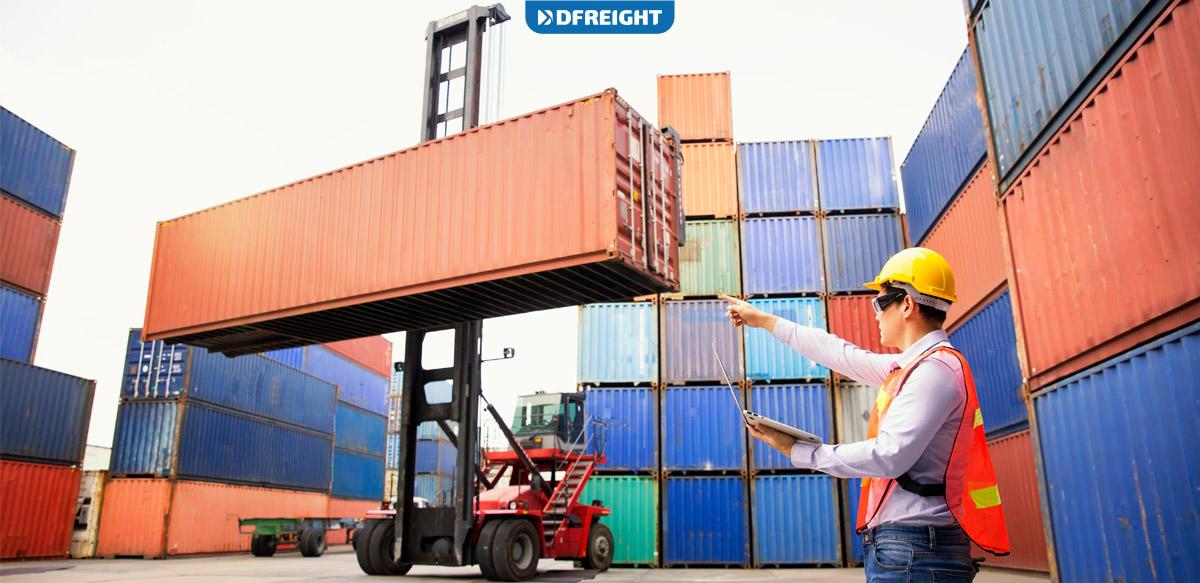 Why Employ a Freight Forwarder?
Since they relieve business owners of a lot of uncertainty and concern, freight forwarders are frequently chosen by those who want their businesses to succeed. A freight forwarder can manage the entire process of importing or exporting products, not only the transportation of goods from port to port.
Advantages of Hiring a Freight Forwarder
They will save you time and money.
They will organize the entire process from start to finish, including the import and export customs paperwork.
They will negotiate with shipping lines on your behalf to get the best possible rates.
They will provide you with expert advice and guidance throughout the process.
They will take care of all the details so you can focus on your business.
How to Make a Freight Forwarder
There is no one-size-fits-all answer to this question, as the requirements for becoming a freight forwarder vary from country to country. However, there are some general steps that you can take to become a freight forwarder.
First, you must obtain a business license and register your business with the appropriate government agencies. Then, you must get the necessary insurance coverage for your business and join a professional organization, such as the International Federation of Freight Forwarders Associations (FIATA). You must also complete a training program and get the necessary licenses and permits. Finally, you can develop a marketing plan and launch your website and social media channels to offer your services.
Educational Background of a Freight Forwarder
A degree is not required to start a career in freight forwarding. However, a supply chain management, transportation, or business-related degree will provide you with the necessary information and abilities for this job. Even though many employers may accept applications from university graduates in unrelated areas, a degree will enhance your application if you decide to apply for graduate programs.
If you choose not to attend college, you might complete an apprenticeship with a 3PL business. Entry-level employment can also be obtained with a Higher National Diploma (HND) in a relevant field.
Set of Skills a Freight Forwarder Needs
A freight forwarder needs to have good organizational skills, communicate well, and negotiate effectively with other companies. They also need to understand the shipping process well and keep track of paperwork.
A freight forwarder also needs to have a good understanding of the customs process and be familiar with the regulations of different countries. They should also be able to find the most efficient routes for shipping and be familiar with the rates of various shipping companies.
In brief, the following capabilities make someone a prospective candidate to work as a freight forwarder:
Ability to communicate well, as misunderstandings might lead to significant consequences
Effective planning and organizing
Effective teamwork and cultural understanding
Understanding the local circumstances and the industry's flexibility and capacity to respond to changing circumstances
Critical thinking ability, particularly under duress
Accuracy and paying attention to details
Computer skills
The Final Word
The efficiency and efficacy of transportation worldwide are significantly impacted by freight forwarders, who are excellent facilitators of the shipping and logistics industries. They modernize, streamline, restructure, and simplify the entire shipping process while assisting their clients in letting go of any difficulties or time-consuming processes so that they may devote their primary resources to their firms' core operations.
Please do not hesitate to contact DFreight if you need a freight forwarder in the UAE. We would be more than pleased to help you at every turn.
FAQs
What is a freight forwarder?
A freight forwarder is a company that provides logistics services for businesses. They coordinate the movement of goods and manage the shipping process from start to finish.
What are the critical roles of a freight forwarder?
The critical roles of a freight forwarder are to coordinate the shipping process, track shipments, and ensure that goods arrive at their destination safely and on time. They also work with customs officials to clear shipments and ensure that all documentation is in order.
Who was the best global freight forwarder in 2021?
With more than 4.6 million twenty-foot equivalent units of maritime freight in 2021, Kuehne + Nagel held the top spot among ocean freight forwarders worldwide.
What are the main benefits of hiring a freight forwarder?
The main benefits of hiring a freight forwarder are that they can save businesses time and money and provide peace of mind by handling all the logistics of the shipping process.
What skills do you need as a freight forwarder?
The skills you need as a freight forwarder include good communication and organizational skills and knowledge of the shipping process, geographical locations, and customs regulations.