The supply chain industry frequently uses the terminology "3PL, 4PL, and 5PL" as procurement and logistics services become increasingly sophisticated and intricate. They are considered five layers of supply chain management, whose providers provide a wide range of logistical services to their clients depending on the size and particular business needs. Continue reading the post to learn how they differ and understand more about each layer and how they can improve your supply chain management.
1PL, 2PL, 3PL, 4PL, 5PL: An Overview
The logistics providers are generally classified from 1PL to 5PL companies. These categories describe the logistics provider's level of engagement with the client's requirements. To ensure that the solutions put forth are adequately pertinent, this helps to determine better the type of offer presented.
The services offered to businesses represent the primary distinction between 1PL, 2PL, 3PL, 4PL, and 5PL. Therefore, a logistics provider can handle the storage of freight, the distribution of goods, and even the administration of raw materials. Certain specialists' offers include transportation-related procedures as a critical component. This refers explicitly to choosing which transportation method to employ, subscribing to insurance policies, and the framework for administrative tasks.
The logistics provider may also offer integration solutions based on its classification of 1PL, 2PL, 3PL, 4PL, or 5PL, such as stock management, localization technology for the fleet of vehicles or freight, and ERP software. Logistic providers can also rely on various methods and techniques to give customers' firms or representatives pertinent and well-suited advice in particular circumstances.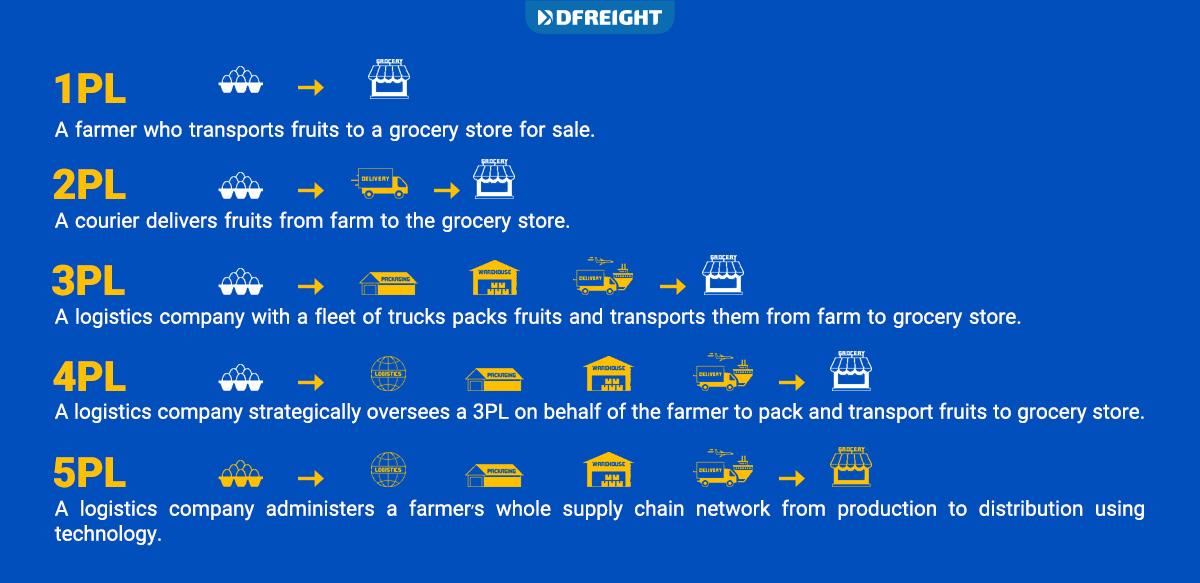 1PL: First-Party Logistics
Any business that directly moves goods between two sites or requires cargo delivery between two locations can be categorized as a 1PL provider. A 1PL might be, for instance, a timber merchant that uses its vehicles to distribute wood directly to consumers. The freight receiver would also fall within this definition. Another example is a local farm that delivers fruits directly to a grocery store for sale.
2PL: Second-Party Logistics
An asset-based carrier known as a 2PL is in charge of the mode of transportation. Shipping businesses that operate the ships, airlines that serve the flights, and haulage companies that drive the trucks are a few examples of 2PLs. It should be noted that a shipping line, airline, or haulage firm may own, lease, or charter its ships, planes, or cars rather than owning them ultimately.
If the lumber merchant didn't have sufficient trucks to serve every domestic customer, it might use a 2PL to ship its goods overseas in the scenario mentioned above. Or the same local farm might employ a 2PL to deliver fruits from the farm to the supermarket.
3PL: Third-Party Logistics
A 3PL offers "third-party" or outsourced logistics services to businesses for all or a portion of their supply chains. These services may include fulfillment, storage, and distribution, supplemental ones like customs brokerage, and logistics software like analytics and track & trace. A 3PL usually provides additional services like packaging, boxing, and crating to improve the client's supply chain.
In our farm-to-grocery store scenario, a 3PL might be in charge of moving the eggs from the farm to the grocery store and putting them in cartons.
4PL: Fourth-Party Logistics
In a 4PL model, an organization outsources the management and execution of supply chain-wide logistical operations. The 4PL provider often provides the company with excellent strategic knowledge and control over its supply chain. 4PL is a more sophisticated kind of supply chain management that emphasizes optimizing the overall logistics process rather than delivering specific items. A manufacturer will hire a 4PL to outsource its entire logistics operations effectively.
For instance, in this scenario, the 4PL may coordinate with the farmer to increase egg production when the grocery store's stock of eggs declines.
5PL: Fifth-Party Logistics
The term "5PL" is relatively new in the logistics industry and describes how numerous outsourced providers have helped to build comprehensive logistic integration. The successful integration of IT and computer systems is essential because it ensures real-time visibility and management of the whole supply chain, regardless of how many suppliers are involved.
A 5PL provider creates the best supply chain network and offers creative logistical solutions. Through technology like blockchain, robotics, automation, Bluetooth beacons, and Radio Frequency Identification (RFID) devices, 5PL providers aim to boost efficiency and value from the start of the supply chain to the finish.
6PL & Above
Additional layers of outsourced logistics will shape the future of supply chain management. While seventh-party logistics is a service that combines 3PL and 4PL benefits (4 plus 3) under one roof, sixth-party logistics can be characterized as offering environmentally friendly supply chain management. Additionally, there are plans for 8PL, 9PL, and perhaps a 10PL powered by artificial intelligence (AI).
3PL vs. 4PL: A Comprehensive Comparison
As we move along the spectrum of logistics models from 1PL to 5PL, it is evident that more and more logistics functions are in the hands of the provider rather than the firm itself. Further in the post, we will examine how the two most popular models—3PL and 4PL—can individually contribute to resolving supply chain problems.
3PL Services for the Supply Chain
Since 1990, 3PL services have expanded significantly. This is because 3PLs offer supply chain management solutions, such as fulfillment, transportation, and warehouse solutions, to any company having difficulties with first-party logistics. To save time and avoid unnecessary hassles, a business might use 3PL providers. In summary, 3PL/third-party logistics firms can oversee the entire e-commerce fulfillment procedure and help the company with several supply chain-related issues.
The benefits of 3PL solutions are numerous. Here are a few of the services that 3PL providers offer:
Warehouse Management
Road Haulage
Returns Management
4PL Services for the Supply Chain
A 4PL (also known as a Lead Logistics Provider) takes all the responsibilities to manage the whole supply chain for a customer by coordinating its own organization's technology and resources with the services of other businesses like 3PLs to develop the best solution. Like 3PLs, 4PLs are accountable for the complete supply chain, but they play a more strategic role in assisting a customer in achieving its organizational goals.
The only distinction between 3PL and 4PL is that the latter is not asset-based, even if both 3PL and 4PL are utilized to carry out identical tasks. In other words, 4PLs do not have owned transportation or storage facilities to offer. They typically manage enormous volumes of data, transportation and general warehousing operations, third-party suppliers, and all other supply chain aspects to maximize efficiency.
A 4PL must be objective; even though they may be able to provide the services their clients require, they must compare their prices and services to those of their competitors and always act in the best interests of their clients. For instance, a 4PL often provides services to simplify supply chain operations, such as combining several carriers and suppliers to offer a single-invoice solution.
Here are a few of the services that 4PL provides to businesses looking for a high-level logistics partner:
Consultancy
Project Management
Data Analysis Like Fuel Management
Business Planning
Logistics Strategy
Management of Third-Party Logistics (3PL Providers)
Freight Forwarding Management
Inventory Planning and Warehouse Management
Analysis of Capacity Use
5PL: Tech & IT-Driven Logistics
A fifth-party logistics provider, often known as a 5PL, is a relatively new term in the logistics industry. A 5PL signifies the most modern stage of the logistics transition. Instead of working on just one supply chain, fifth-party logistics focuses on a broad network of them by using the most recent technology. To address a client's logistical concerns, 5PLs identify, plan, and then put the most effective solution into action.
Fifth-party logistics is one level up from fourth-party logistics, as it can manage multiple supply chains simultaneously. Therefore, for rapidly expanding e-commerce enterprises, a 5PL service emerges as the most profitable option. Additionally, 5PL is not asset-based, much like 4PL. The best aspect is that a 5PL may partner with the top service providers to maximize customer centricity and satisfaction by utilizing any technology or supply chain management firm. In other words, 5PL firms provide services to 3PL companies by serving as logistics aggregators.
The Key Distinction Between 3PL, 4PL, and 5PL
The degree of integration and engagement in their clients' supply chain is what distinguishes 3PL, 4PL, and 5PL. The sole purpose of a 3PL is to complete the shipper's requests. Order fulfillment, improvement, and discovery are the functions of a 4PL. A 5PL is then there to manage every single component of the supply chain through cutting-edge technology.
The Final Word
An innovative 3PL or 4PL may be the ideal option for your business if it fails to satisfy its customers' demands for faster responses due to an increasingly complicated supply chain. By working with a forward-looking logistics leader, your supply chain solutions may be competitively advantaged and optimized for optimum customer value. Advanced technologies like DFreight's Digital Freight Forwarding platform allow supply chain excellence when the most effective logistics partnerships seamlessly combine the flow of items and information.
Have you ever outsourced your logistics activities to a 3PL or 4PL? If yes, how did it influence your services? Please share your experiences with us in the comments.
If you have any questions or need more info about various layers of supply chain management in the UAE, look no further than DFreight. Just fill out the Contact form to let us give you a hand!
FAQs
What is 3PL in simple words?
A 3PL (Third-Party Logistics) provider is a company that offers outsourced logistics services, which include anything involving the management of one or more aspects of procurement and fulfillment activities.
What is the biggest 3PL in the world?
The biggest third-party logistics provider (3PL) business in the world is Amazon.
What is the critical difference between 3PL and 4PL?
A 4PL concentrates on optimizing your whole supply chain, while a 3PL provider is more concerned with the day-to-day logistical operations of your supply chain.