In the fast-paced world of freight forwarding, data insight is crucial for smooth operations, timely deliveries, and customer satisfaction. It revolutionizes shipment management through real-time visibility, predictive analytics, performance monitoring, mitigating shipping risks, and enhanced customer satisfaction. Experience the power of data insight with DFreight's digital platform. Learn how to access the Data Insight section on our website after logging into your account.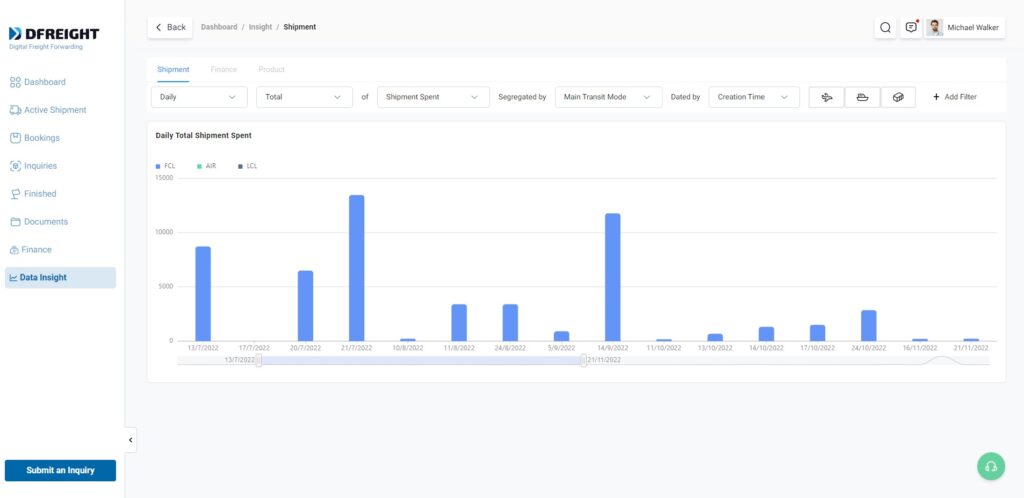 In the upper part of this section, there are options that you can use to filter the data you want. In the following, we will explain these options in order from left to right.

Filters in Data Insight
Next, we will check all the details that you can see in this section.
Specified Period of Time
You can check your data on a Daily, Weekly, Monthly, or Yearly basis.

Data Scale
You can check your data according to Total or Average amounts.

Different Parameters
You can analyze your shipment data based on these categories: Shipment Spent, Number of Unit Types, Number of Shipments, Actual Time of Shipment, Customs Spent, Delay, Demurrage Spent, and Detention Spent.

Transit Method
You can filter your information based on Main Transit Mode or according to the Carrier.

Date
In this section, you can filter your data based on Creation Time, Start Time, and ETA Time (Estimated Time of Arrival).

Shipping Method
In general, all three methods are shown in the diagram, but you can view the data separately based on Air, FCL, or LCL method.

Add Filter
There is another section at the end called Add Filter, in this section, by selecting any of the options, a new filter will be added to your data so that you can check your information in more detail.

Time Range
In this filter, you can customize your time range and enter the start date and end date manually.

Shipper/Consignee
By using this filter, you can check the data related to only one specific shipper and consignee.

Trade Lane
When the number of your shipments increases, you can use this filter to separate the information of a specific trade lane and check its details.
In this filter, you can choose the country and city of origin as well as the country and city of destination.

Carrier
If you use different carriers to move your shipments, you can check the information about each carrier separately in this section.

Don't miss out on the advantages of a digital freight forwarding platform. Join the DFreight community today and unlock a world of possibilities for your business. Visit our website or contact our team to schedule a demo and see firsthand how DFreight can transform your shipping operations. Take the leap toward success with DFreight!