DFreight's Air Freight Tracking Service is a comprehensive system that provides businesses with real-time updates on the location of their cargo, flight numbers, estimated arrival times (ETAs), and a timeline of all the events associated with their shipment.
Our digital platform is integrated with a cutting-edge system that currently supports the data of 98 cargo airlines, allowing businesses to track their shipments from start to finish. We understand the importance of tracking your shipments in real time, which is why we are proud to offer this comprehensive Air Freight Tracking Service.
The Air Freight Tracking System offers you a timeline to figure out the steps during your shipping process and shows you the cargo location on the map.
When Can I Use the Air Freight Tracking System?
Once the DFreight operators enter the Master Air Waybill (MAWB) or House Air Waybill (HAWB) Number into our back-office panel, the DFreight tracking system starts its job by activating the "Tracking Timeline" button and serves you with the data of airplane positions and current location, flight numbers, ETA (Estimated Time of Arrival), and all cargo events based on date/time.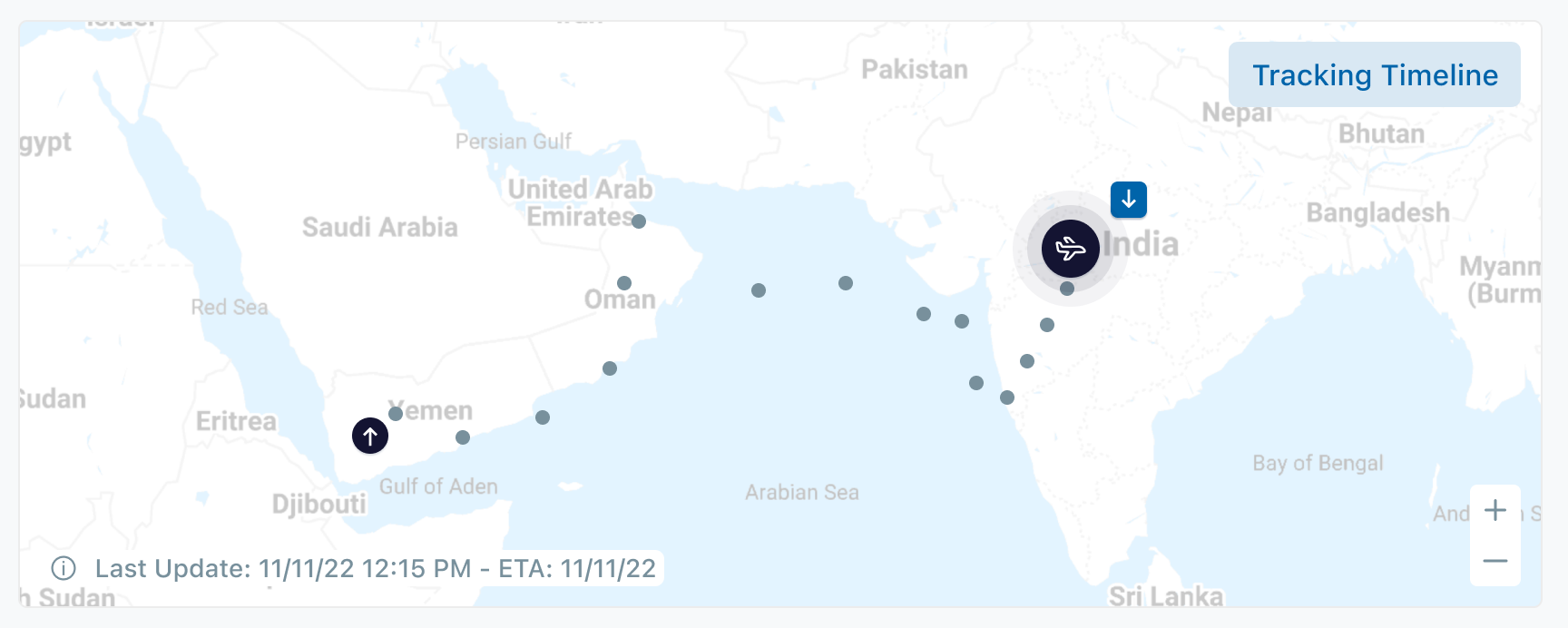 How Often Is the Air Freight Tracking System Updated?
Our tracking system will update every 20 minutes with the airplane's position, the location of the cargo, and any events associated with the shipment. You can see a tracking timeline on the map enabled when at least one event occurs. The tracking ETA and the last update time are also shown on the map.
The timeline also demonstrates to you all the events that took place, along with titles and descriptions in order of date and time. Besides, a visual dynamic progress bar at the top of the timeline shows the overall state of the shipment from the origin to the destination airport.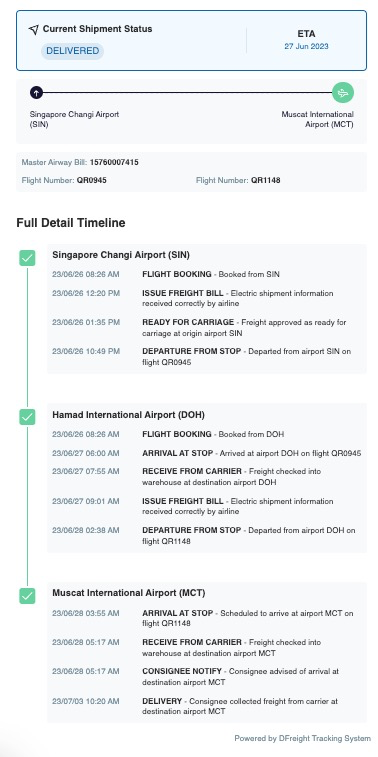 What Airlines Does DFreight Provide Shipment Tracking for?
DFreight currently provides shipment tracking for 98 airlines as the following:
Aegean Airlines
Aeroflot Russian Airlines
Aerolineas Argentinas
Aeroméxico Cargo
Afriqiyah Airways
Air Algerie
Air Arabia
Air Astana
Air Baltic
Air Botswana
AirBridgeCargo Airlines
Air France
Air Hong Kong
Air India
Air Malta
Air Mauritius
Air Serbia
Air Seychelles
Air Tahiti Nui
Air Zealand
Alaska Airlines
Alitalia
All Nippon Airways
American Airlines
Atlas Air and Affiliates
AtlasGlobal / Atlasjet
Austrian Airlines
Biman Bangladesh Airlines
Blue AirBritish Airways (IAG Cargo)
Brussels Airlines
CargoLogicAir
Cargolux Airlines International
Cargolux Italia
Caribbean Airlines
Cathay Pacific Airways
China Southern Cargo
Croatia Airlines
Czech Airlines
Delta Air Lines
Egypt Air
Emirates Sky Cargo
Ethiopian Cargo
FedEx Express
Gulf Air Company
Hong Kong Air Cargo Carrier Ltd.
Hong Kong Air Express Ltd.
Hong Kong Airlines
IBERIA (IAG Cargo)
Icelandair Cargo
JAL Japan Airlines
Kenya Airways
KLM Cargo (+ Martinair)
Korean Air Cargo
Kuwait Airways
LOT Polish Airlines
Lufthansa Cargo AG
Malaysia Airlines Kargo
Nippon Cargo Airlines
Nordica
Pakistan International Airlines
Pegasus Airlines
Philippine Airlines
Polar Air Cargo
Qantas Airways
Qatar Airways
Royal Air Maroc
RwandaAir
SAS Scandinavian Airlines
SATA Air Açores
SATA International Azores Airlines
Saudi Arabian Airlines
Silkway Airlines
Silkway Italy
Silkway West Airlines
SWISS WorldCargo
TAAG Angola Airlines
TAP Air Portugal
TAROM Airlines
TNT Airways (ASL Airlines Belgium)
Turkish Airlines
Tyrolean Airways
Ukraine International Airlines
Uzbekistan Airways
Vietnam Airlines Corporation
Virgin Cargo
Yemen Airways
United Airlines
Etihad Airways
Singapore Airlines
Air China
DHL Aviation
Aer Lingus
EVA Air
China Airlines
South African Airways
CAL Cargo Airlines
Asiana Airlines
China Cargo Airlines