Submitting an inquiry for your shipment order on the DFreight platform is as easy as ABC. You can submit an inquiry in a few minutes just with a few clicks.
To start, click the dark blue button "Submit an Inquiry" on the bottom-left of the platform screen and go to the "Create Request" page.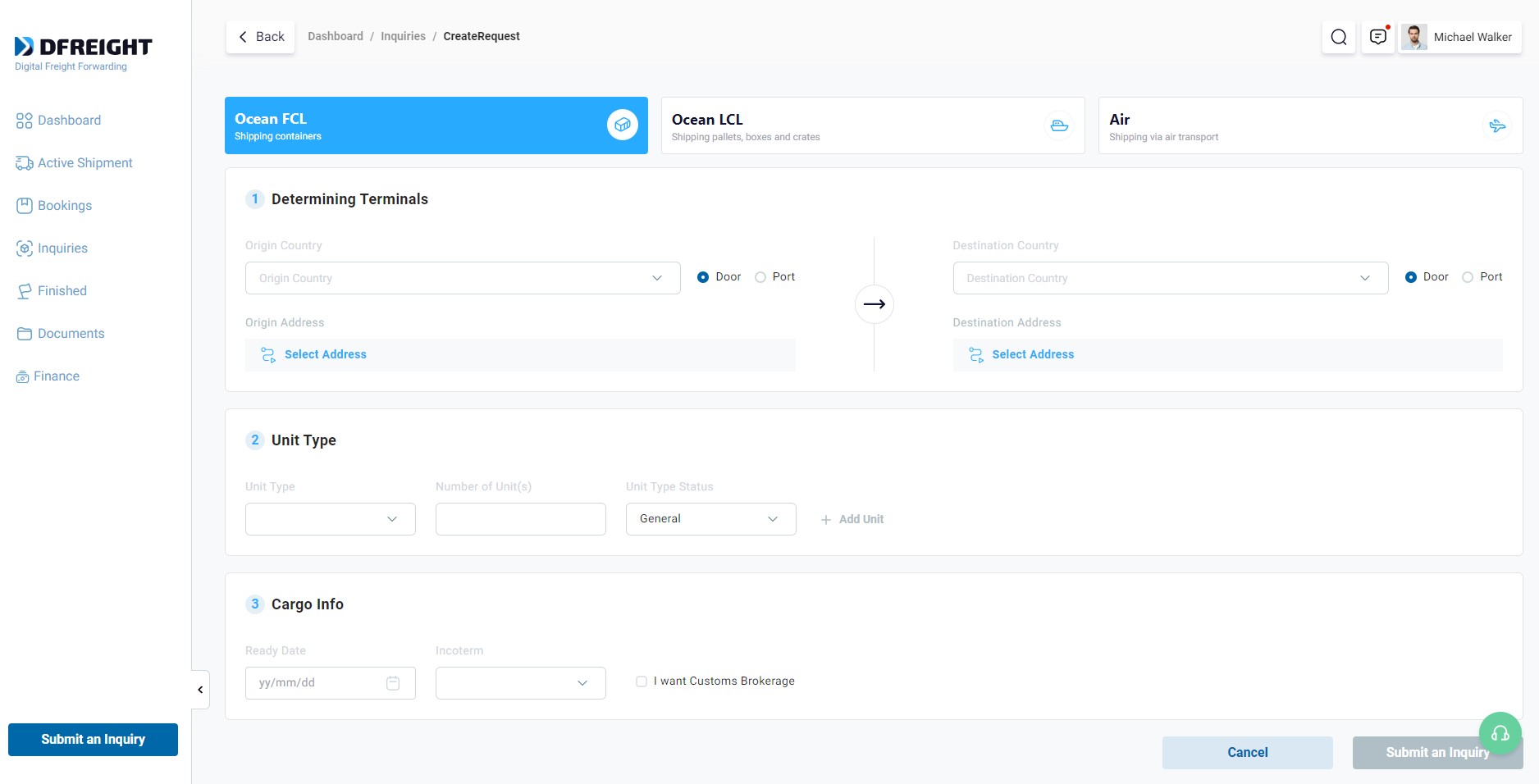 Submit an Inquiry for Your Shipment in 3 Easy Steps
You need to fill out three cards to complete your inquiry, but before that, you must select the mode of freight type you require for your shipment. There are three types of freight transportation as the following:
Ocean FCL: Shipping Containers (Full Container-Load Shipments)
Ocean LCL: Shipping Pallets, Boxes, and Crates (Less than Container-Load Shipments)
Air: Shipping via Air Transport

Card 1: Determining Terminals
In Card number 1, you are required to select the Origin and Destination countries and ports/addresses for your shipment. You can select countries and their ports from the drop-down menus, which will open once you click on the fields. Then, select the type of your cargo pickup and delivery from the options below:
Door-to-Door
Door-to-Port
Port-to-Door
Port-to-Port
If you choose "Port" as the pickup or delivery mode, pick the port you prefer from the menus. But if you choose "Door", you must provide us with a complete address of the pickup or delivery locations.

Card 2: Unit Type
In Card number 2, select the unit type from the drop-down menu, enter the number of units, and finally, the cargo type from the drop-down menu. You can add more rows for different unit types by clicking on +Add Unit.

If you select Ocean LCL freight type, you will also be required to enter the "Dimension of Unit" (Length, Width, Height) and "Unit Gross Weight" of your shipment.

Card 3: Cargo Info
In Card number 3, select the date your cargo is ready for pickup from the calendar that opens once you click on the field. Then, select the type of "Incoterm" from the drop-down menu. Note that incoterms shown to you depend on the terminal type you selected in Card 1.
Finally, check the box "I want Customs Brokerage" if you want DFreight to go through the customs procedures on your behalf.

Now, you're ready to submit your inquiry by clicking on the dark blue button "Submit an Inquiry" (When you have fully completed the form, the gray button turns into dark blue ready to be clicked, and direct you to the next stage).
Once your inquiry is submitted, a unique Order ID is assigned to your inquiry by the system, and you will be directed to the "Proposals" page to wait for relevant proposals to be prepared for you soon.