Shipping to Ghana
Find the Best Freight Quote
Ocean Freight to Ghana
Ghana was the 73rd largest economy in the world in terms of GDP, the 80th largest in total exports, the 83rd largest in total imports, and the 146th largest in terms of GDP per capita in 2020.
Ghana is a wealthy West African country that has a leading role in the area. It is also West Africa's second-most populous country. It has vast natural resources as well as rare metals. It possesses a lot of gold reserves and industrial minerals, and a lot of hydrocarbon resources. The services sector, which is followed by manufacturing and industries, is the most important contributor to the economy.
Ghana is well-known for its vast variety of crops and agricultural goods, which are extensively exported. Most notably, the country is a major producer of the best cocoa, ranking among the world's top cocoa producers.
Ghana has a southern border with the Gulf of Guinea and the Atlantic Ocean, hence the majority of agricultural products are exported through the country's six vital seaports, which handle international marine trade.
Import to Ghana from UAE
Export from Ghana to UAE
Jebel Ali
From: Tema
Sharjah
From: Tema
FCL or LCL Sea Shipping to Ghana
FCL stands for 'Full Container Load,' and it refers to a container that is only used by one consignee. In international shipping, an FCL refers to a single container reserved only for the transportation of the shipper's goods. The shipper is not required to share the container with other shippers' cargo. This improves cargo safety and streamlines the management of ocean freight transportation.
Less than Container Load, or LCL, is used when the exporter does not need to book a full container since the goods do not require that much room. An LCL container is used for smaller shipments that need to be shipped cheaply and in a time-sensitive way.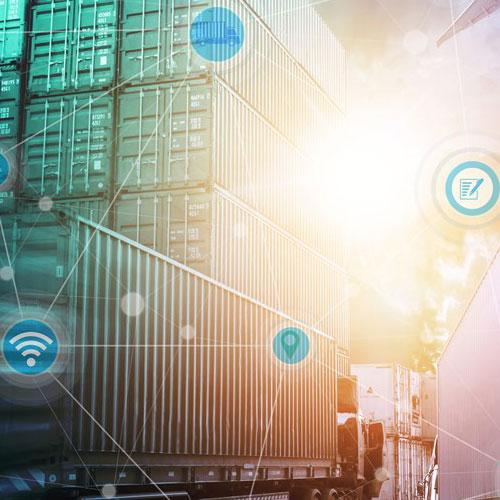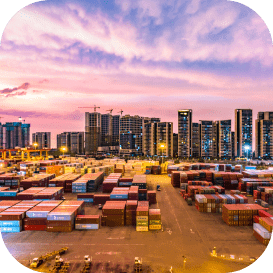 Tema Port
Tema port, on Ghana's east coast, is the country's largest and most important port. It has a total area of 3.9 million square meters and welcomes around 1650 ships every year, including container ships, general cargo boats, tankers, ro-ro, and cruise ships.
General freight, heavy dry and liquid bulk, and imported cars are all handled here. Petroleum, cement, aluminum goods, and textiles are among the 12 million tonnes of cargo handled in this port annually.
This port, which is approximately 30 kilometers from the capital city, handles more than half of Ghana's international marine traffic. It also functions as a regional logistics hub by providing a variety of services. The government intends to develop the port even further in order to make it the region's most significant commercial hub.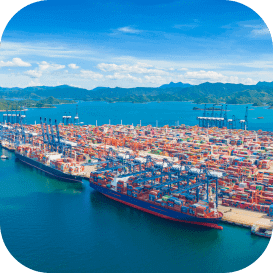 Takoradi Port
The port of Takoradi is located in western Ghana and was the country's first commercial port, established in 1928 to serve the mining industry as well as import consumer goods. Takoradi is strategically important in the region and is approximately 230 kilometers from Accra.
This port is well connected to the rest of Ghana, particularly the northern and central regions, and it handles a lot of trade with neighboring landlocked countries like Burkina Faso, Mali, and Niger. After the port of Tema, it is Ghana's second busiest port.
Apart from distinct docks for manganese and bauxite, it contains six berths and one oil berth. Their relative draughts range from 8.4 to 10 meters. All of these berths are multifunctional and ro-ro capable.
This port handled 66% of exports and 19% of imports in 2020, and it has grown significantly since then.
Manganese, bauxite, forest products, bagged cocoa beans, and mining equipment are among the exports handled by Takoradi port. Clinker, wheat, petroleum products, and containerized freight are all imported to the country.a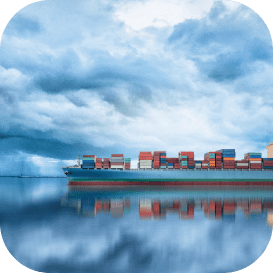 Accra Port
Accra Port is a deep-water port in Ghana's Gulf of Guinea. It's a medium-size harbor with very little cargo activity. It was formerly an important port facility for the Portuguese in the 17th century, but the marine trade fell due to the surf, and it transferred to the adjacent Port of Tema, which is currently the country's primary port.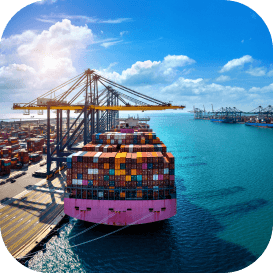 Saltpond Port
The Port of Saltpond is a deep-seaport in the town of Saltpond in Ghana's south. It is located in the Gulf of Guinea and has an anchorage depth of roughly 12.5 to 13.8 meters. The oil terminal is more than 23. 2 meters deep. The water channel has a depth of 76 feet.
It features an open roadstead harbour and is a very small port. The Port's shelter is in poor shape and needs to be repaired. It can only accommodate small boats, most of which are from nearby regions, and not international goods. It mostly deals with minor amounts of ordinary goods and logistics.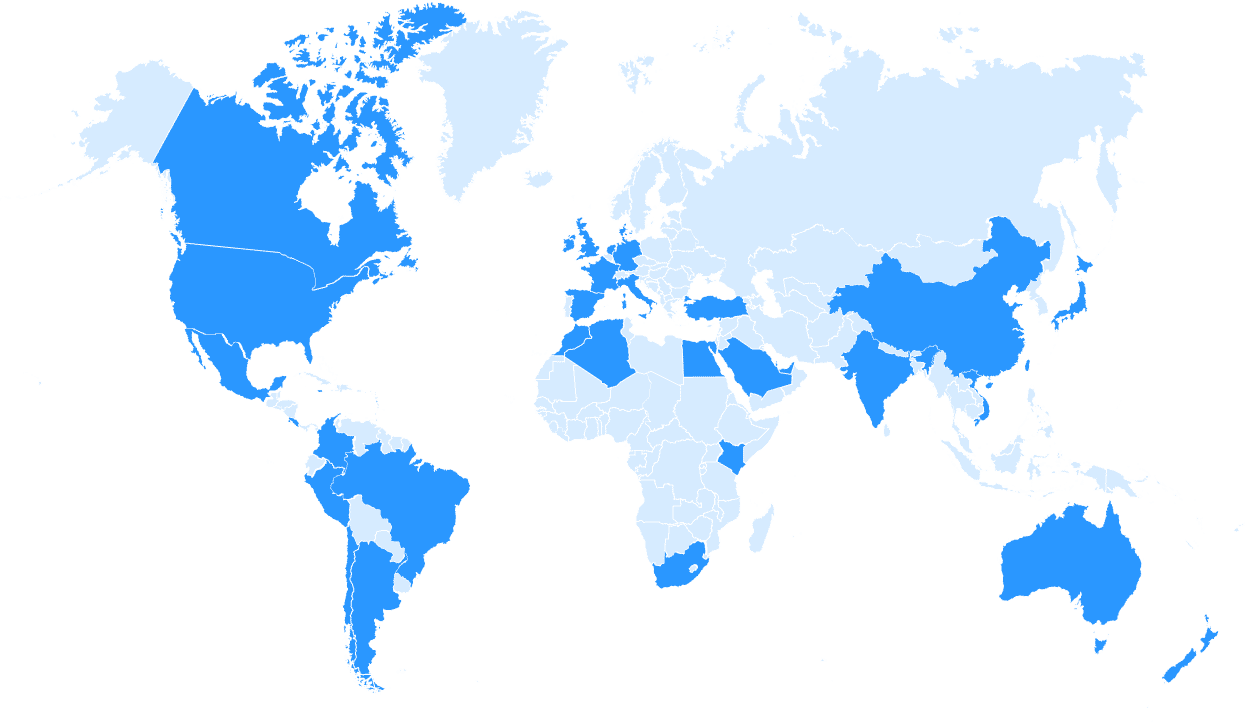 Shipping cargo: Ghana <–> UAE
Ghana and the UAE have a strong trade relationship. The UAE is Ghana's second–largest trading partner, after China. Two–way trade between the two countries totaled $4.4 billion in 2016. The UAE is also a major investor in Ghana, with investments totaling $2 billion as of 2016. The two countries have signed a number of agreements to enhance economic cooperation, including an agreement on investment promotion and protection that came into effect in 2011.
In recent years, the volume of trade between Ghana and UAE has been growing steadily. This is due to the increasing demand for Ghanaian products in the UAE market, such as cocoa beans and gold bars. As a result, more and more container ships are now sailing between these two countries each year carrying ever–larger amounts of cargo.
In recent years there has been an increase in the amount of trade between the UAE and Ghanaian economies – according to WTO figures UAE exports to Ghana grew from $42 million US dollars in 2001 to $ 205 million US dollars by 2014. In 2015 this number increased again to around $240 million US dollars. During last year's presidential elections in both countries, it was clear that there is strong interest from both leaders in deepening economic ties – President Akufo–Addo of Ghana stated that he would "like to see more Emirati investment" during his visit to Abu Dhabi while President Al Sisi of Egypt announced his intention "to work very closely with [the] new government of Nigeria".
Rules & Regulations
The rules and regulations of shipping to Ghana are governed by the Ghana Shippers' Authority. All shipments to Ghana must be made through a licensed shipper. Shipments must be accompanied by all required documentation, including a bill of lading, commercial invoice, and packing list. The shipment must also comply with all relevant customs regulations.
All shipments of dangerous goods must be properly declared and labeled. Ghana has strict controls on the import of used vehicles, which must meet a number of standards before they can be imported.
In general, Ghana requires that imported goods must be new and in their original packaging. Used or refurbished goods are typically not allowed.
| City From | City To | Port From | Port To | Price | Shipping Line | Container Code | Valid To | Container Type | Distance | Transit Time |
| --- | --- | --- | --- | --- | --- | --- | --- | --- | --- | --- |